Print Friendly Version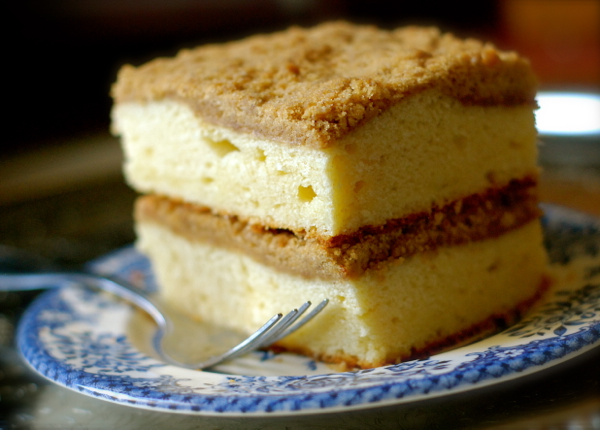 This is one of my favorite coffee cakes to make for special occasions. This year I made it for part of our Christmas morning breakfast. So delicious, rich, and so easy to prepare! Of course, it's the perfect accompaniment to a cup of coffee or tea.
~ preheat oven to 350 degrees F. ~
for the cake:
1/2 cup butter, softened to room temperature
8 oz. plain cream cheese, softened to room temperature
1 and 1/4 cups sugar
2 large eggs
1 teaspoon pure vanilla extract
1/3 cup milk
2 cups all purpose flour
1 teaspoon baking powder
1/2 teaspoon baking soda
1/4 teaspoon salt
Generously butter a 9×13 cake pan.
Beat butter, cream cheese, and sugar until light and fluffy. Add eggs, vanilla, and milk. Beat well. Combine dry ingredients in a separate bowl. Add to creamed mixture. Beat just until smooth and evenly combined.
Spread evenly in prepared cake pan.
for the double crumb streusel topping:
1 cup brown sugar
1 cup all purpose flour
6 Tablespoons butter
2 teaspoons cinnamon
Combine topping ingredients until crumbly. Sprinkle evenly over cake batter in pan. Bake cake in preheated oven for 35 to 45 minutes, or just until a skewer inserted into the center of the cake comes out with a few moist crumbs on it.
If you want the cake to appear as it does above, wait for it to cool, cut it in half, and stack one of the halves on top of the other one.
Enjoy!
~Melissa
You may enjoy these related posts: