Print Friendly Version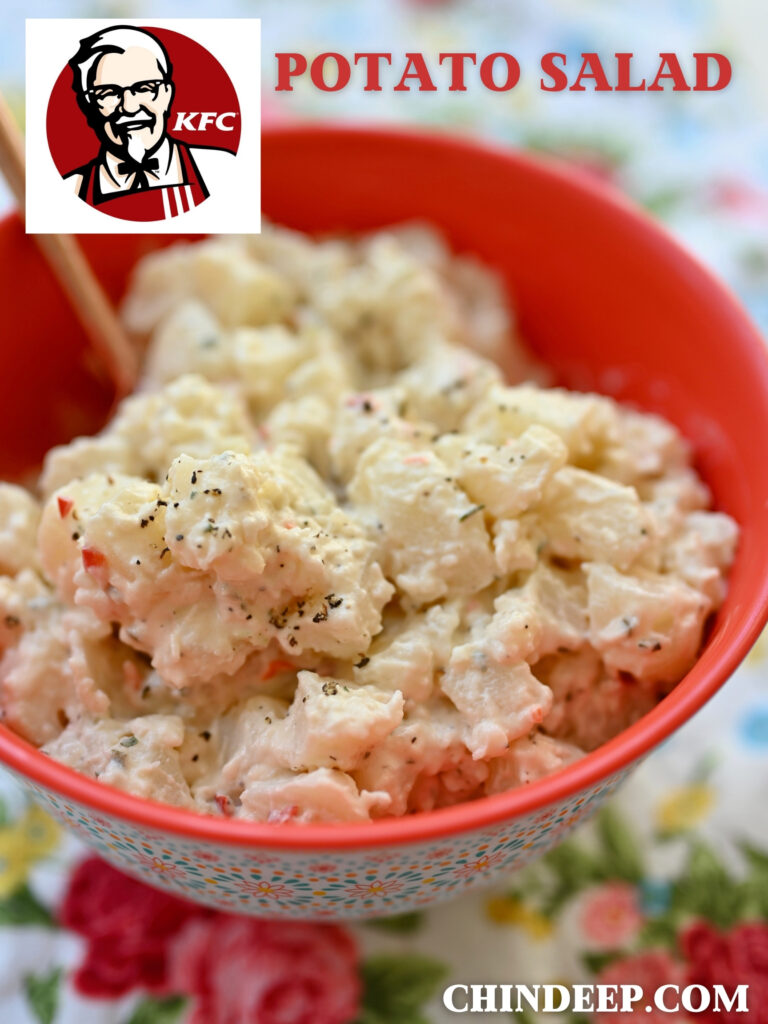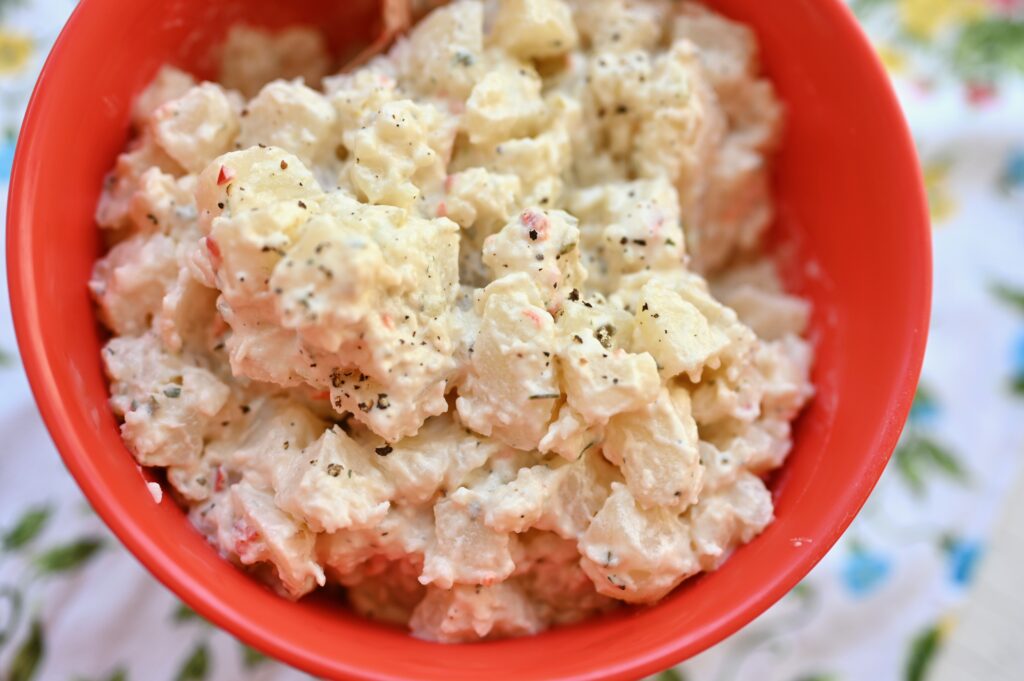 Hello there! Time for another amazing, copycat, KFC recipe! Everyone went bonkers over my Copycat KFC Coleslaw, and my Copycat KFC Biscuits, so I decided it was time to share another KFC riff.
My daughter made up a big batch of Copycat KFC Potato Salad for our 4th of July gathering this year and it turned out so good! It's easy to make with easy to find ingredients. You probably already have most of what you'll need in your refrigerator and pantry.
Who doesn't love a good potato salad? I have at least five other recipes for potato salad on my blog. A quick search will bring you to ones like Dill Pickle Potato Salad, Pesto Potato Salad, Dilly Potato Salad, Picnic Potato Salad… and probably a few more that I'm forgetting. You can't have too many recipes for potato salad, in my opinion.
This one paired well with our Beyond Burgers and bratwurst, baked beans, coleslaw, watermelon, corn on the cob, and flag cake!
Makes approximately 12 large servings:
4 lb. russet potatoes, peeled
2 cups mayonnaise (we used Vegenaise and it was SO good)
3 Tablespoons sweet pickle relish
7 teaspoons sugar
2 Tablespoons white onion, chopped fine
4 teaspoons prepared yellow mustard
1 Tablespoon white vinegar
1 Tablespoon celery, chopped fine
1 Tablespoon pimento, chopped fine
2 Tablespoons carrot, chopped fine
1 Tablespoon fresh or dry parsley, chopped fine
salt and black pepper, to taste
Cut potato into bite size pieces (1 and 1/2 inch chunks.) Place in boiling water and cook for 7 to 10 minutes (or until tender but still firm, not mushy.)
While the potatoes are cooking, make the dressing by combining the mayonnaise, relish, sugar, onion, mustard, vinegar, celery, pimento, carrot, and parsley. Whisk smooth. Season to taste with salt and pepper. Cover and refrigerate.
Once potatoes are done, allow them to cool completely before adding the dressing. Gently mix the dressing in when the potatoes are ready. Cover potato salad and cool for at least 4 hours prior to serving. Allowing it to chill in the refrigerator over night is best.
Enjoy!
~Melissa
You may enjoy these related posts: