Print Friendly Version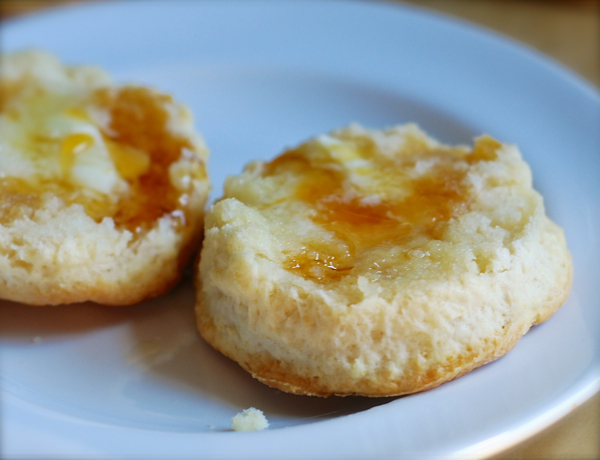 If you've been looking for a biscuit recipe that tastes exactly like KFC biscuits, then you're search is over. These taste exactly, I mean exactly, like the original KFC buttermilk biscuits!
I worked at a KFC for a summer when I was a teenager, and once in awhile I had to make the biscuits. I could hardly resist treating myself to one, hot out of the oven, with butter and a drizzle of honey!
Not only do these taste like the original recipe, they're very easy to make. So don't hesitate to whip up a batch to go with breakfast, fried chicken, or a cozy soup supper.
If you'd like to try making my copycat recipe for KFC coleslaw as well, just click on the link. Both are the perfect accompaniment to your favorite fried chicken recipe!
for 8 KFC biscuits:
~ preheat oven to 425 degrees F. ~
1 and 1/2 cups all purpose flour
1/2 teaspoon salt
1 Tablespoon sugar
1 Tablespoon baking powder
1/3 cup vegetable shortening (such as Crisco)
2/3 cup buttermilk + more for brushing tops of biscuits
butter
honey or jam (optional)
Sift dry ingredients into a large mixing bowl. Whisk to combine. Cut shortening into dry ingredients until coarse, uniform crumbs form. Add buttermilk. Using a wooden spoon, stir until a ball of dough forms. Flour a large cutting board. Place dough on flour and knead 6 turns. Pat to 1/2 inch thickness. Cut out 8 biscuits using a round biscuit cutter. Transfer to baking sheet, placing biscuits 2 inches apart. Brush a little buttermilk over the tops. Bake for 10 to 15 minutes, or until golden brown and set. Brush butter over the tops of the biscuits. Split, top with more butter, and serve with honey or jam!
Enjoy!
~Melissa
You may enjoy these related posts: