Print Friendly Version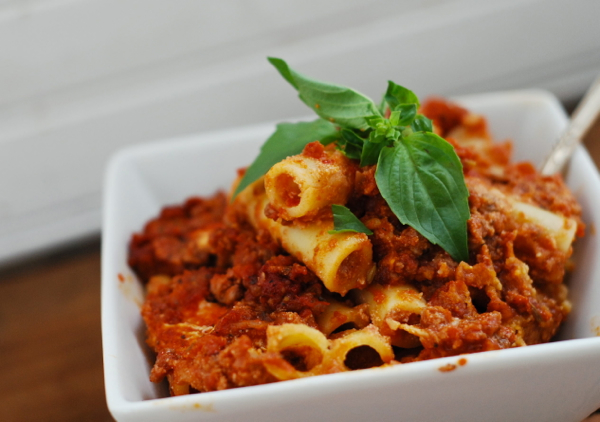 Another amazing Italian dish featuring Pomodori Gourmet Food's Arrabbiata sauce! This is meaty, cheesy, a little spicy and a LOT good! I make my baked ziti using extra lean ground beef and I season it to make it taste like hot Italian sausage. I do this because lean, organic beef is better for you than fatty, salty sausage. I know, I know… it seems like I'm sacrificing flavor. If you prefer to use sausage for part or all of the meat in this recipe, you certainly can. I actually like this better and with all of the fat in the cheese, I don't feel like I'm missing out. Do a taste test and you be the judge 😉 This recipe makes a ton and can easily be halved, if you're not cooking for 12.
serves 12 hungry people
2 Tablespoons extra virgin olive oil
3 large cloves garlic, minced
1 large onion, chopped
2 lb. lean ground beef
1 teaspoon freshly ground black pepper
1 teaspoon onion powder
1 teaspoon smoked paprika
1 teaspoon chipotle powder
1 Tablespoon brown sugar
1 Tablespoon dry oregano
1 Tablespoon fennel
1 teaspoon dry thyme
1 (28 oz.) can whole or crushed tomatoes in juice
2 (14.5 oz.) jars Pomodori Gourmet Foods Arrabbiata Sauce
1/2 cup dry red wine
16 oz. ziti cooked until almost "al dente"
15 oz. whole milk ricotta
1/2 cup freshly grated Parmigiano Reggiano
1 whole egg, lightly beaten
1 and 1/2 lb. fresh mozzarella, cut into little 1 inch chunks
Heat the olive oil in a large, heavy bottomed Dutch oven over medium a medium flame. Add the onion and cook for 3 to 5 minutes (until tender.) Add garlic and cook an additional minute. Add the beef along with all the spices. Cook until meat is well browned and almost completely cooked. (If you're using sausage, or hamburger that isn't lean, you'll want to drain the meat at this point.) Add tomatoes, arrabbiata sauce and wine. Simmer gently for 20 to 30 minutes, stirring frequently to insure the sauce doesn't burn to the bottom of the pot. After the 20 to 30 minutes, when the sauce is reduced by about 1/3, and thickened, remove from heat and allow to cool to almost room temperature.
While the sauce is simmering, preheat oven to 375 degrees F. and cook the pasta according to the package directions, drain well and rinse in cold water to stop the pasta from cooking any further.
Mix the ricotta, parmesan and egg in a very large mixing bowl. Add pasta to this cheese mixture. Stir and set aside.
Once sauce is cooled, add it to the pasta mixture. Toss gently to combine so all ingredients are evenly incorporated.
Add half of this pasta mixture to an oversized baking pan (10 x 16 and 3 inches deep… or use two big casserole pans.) Now sprinkle half of the mozzarella over the pasta layer. Repeat with another pasta layer and another mozzarella layer. Bake, uncovered, for 40 to 60 minutes or until the baked ziti is very hot all the way through the center, bubbling, and the cheese is melted and beginning to turn golden. Remove from oven and allow the ziti to rest for 5 to 10 minutes before serving. Top with more fresh Parmesan and chopped, fresh basil, if you wish.
Visit the Pomodori Gourmet Foods website to purchase sauce
Visit the Pomodori Gourmet Foods Facebook page for awesome recipes!
Enjoy!
~Melissa
You may enjoy these related posts: