Print Friendly Version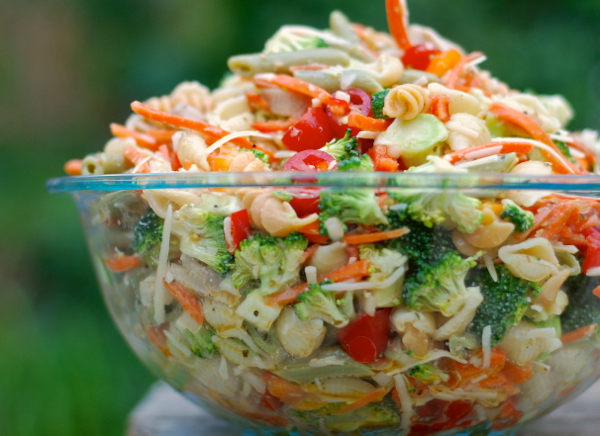 We love pasta salads, so I tend to make them a lot. This one is pretty standard, and you've probably seen a lot of salads like it, but it's so delicious and easy to prepare I thought I'd share it with you anyway. We love to make this for picnics, potlucks, and game day!
To make this super easy, just purchase a bottle of your favorite bottled Italian dressing (we love Newman's Own.)
12 oz. small pasta of your choice (we like "Wacky Mac")
1 head broccoli, stem removed/discarded, cut into bite size pieces
1/2 cup chopped onion
6 mini sweet bell peppers, stems removed, chopped
5 oz. shredded or julienned carrots
1/2 of a small zucchini, chopped
1 to 2 cups sliced cherry tomatoes or grape tomatoes
1 clove fresh garlic, minced OR 1 Tablespoon jarred garlic
1 to 2 cups freshly shredded Parmesan cheese
1 cup chopped pepperoni OR mini pepperonis
16 oz. Italian dressing
salt and freshly ground black pepper, to taste
Cook pasta according to package directions for firm or al dente pasta. Once done, immediately drain and rinse under cold water until pasta is cold. Drain well and transfer to a large mixing bowl.
Add: broccoli, onion, peppers, carrots, zucchini, tomatoes, and garlic. Mix gently and so all ingredients are evenly incorporated. Add cheese and pepperoni. Mix again. Add dressing. Toss until everything is coated. Salt and pepper, to taste.
Chill in a covered container until ready to serve.
Enjoy!
~Melissa
You may enjoy these related posts: