Print Friendly Version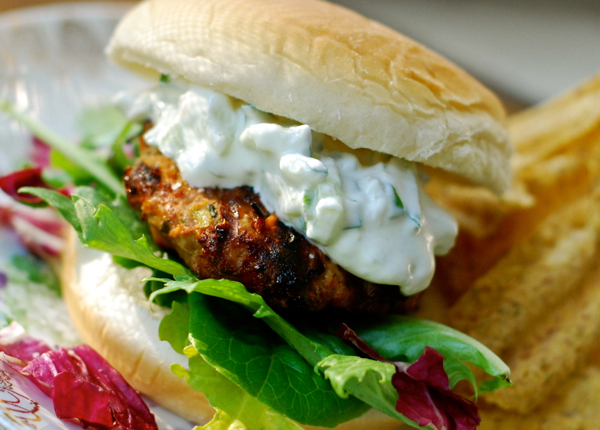 We're getting into eating healthy in our house. We're eating piles of vegetables and fruit, sprouted whole grains, lean meats and fish, and lots of plain greek yogurt. I never understood how people could eat 4 to 6  smaller meals a day instead of the three "square" meals that I grew up with, but now that I'm eating healthier it makes sense. I get hungry every 2 to 3 hours like I'm suppose to. What's funny is that I'm eating all day and still losing weight. Seems counterintuitive, but it's true. It's a whole new way of approaching food for me.
I'm ramping up my exercise routine, and generally feeling better and better as the weeks pass. Of course we splurge now and then. One of my favorite ways to do that is to have a burger. What I've come to realize is that the further away I get from greasy, salty food… the more I want my burgers to be healthy and lean too! I actually prefer them that way. Nobody is more surprised than I am about that. Once in awhile I still like a couple slices of lower sodium bacon piled on top…  sometimes I add brown rice to them and serve them over Ezekiel bread, and sometimes I make them like this…
for the burgers:
4 green onions + green tops, chopped
1 large clove garlic, peeled and crushed
1 Tablespoon fresh oregano leaves
8 large basil leaves
3 handfuls arugula or baby spinach
zest of 1 lemon
1 teaspoon coarse sea salt
1 teaspoon freshly ground black pepper
1 lb. ground, lean turkey OR ground bison
1 large egg, lightly beaten
2 slices Ezekiel bread, well toasted
2 Tablespoons extra virgin olive oil
hamburger buns (regular, whole grain or gluten free)
Place green onions, garlic, oregano, basil, arugula and lemon zest in the bowl of a food processor. Pulse until finely chopped. Place mixture in a large bowl along with the meat, salt, pepper and egg. Place the toasted bread in the bowl of the food processor and pulse until small crumbs form. Add the bread to the rest of the stuff in the bowl. Using clean hands, mix everything together until well combined and uniform. Form into 6 patties. Place on a plate and refrigerate for an hour before rubbing with the olive oil and grilling over medium-high heat, 7-8 minutes per side. Top with the greek yogurt cucumber mayonnaise on hamburger buns.
for the greek yogurt cucumber mayonnaise :
3/4 cup plain greek yogurt
1/4 cup real mayonnaise or Vegenaise
1 teaspoon prepared horseradish (optional)
1/2 cup coarsely chopped cucumber
2 green onions + green tops, chopped
2 Tablespoons chopped, fresh mint leaves
1 Tablespoon chopped, fresh chives
1/2 teaspoon coarse sea salt
1/4 teaspoon freshly ground black pepper
Combine all topping ingredients in a small bowl. Mix well. Cover and refrigerate until ready to serve.
These burgers are AWESOME topped with a little lettuce and fresh garden tomato and served with truffle pommes frites or firecracker sweet potato wedges!
Enjoy!
~Melissa
You may enjoy these related posts: