Print Friendly Version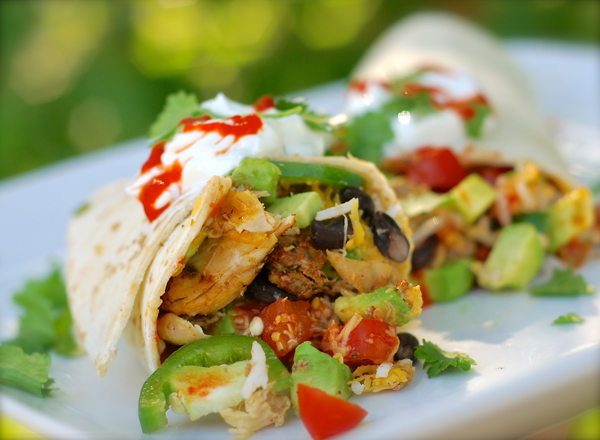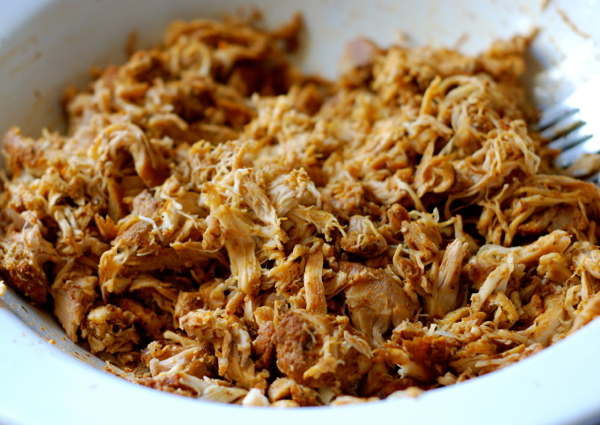 Here's another way to enjoy easy, slow cooked chicken! I make up a big batch and we eat it for lunches and dinners throughout the week. So delicious, and so little fuss! Perfect for busy weeknights!
2 to 3 lb. boneless skinless chicken thighs or breasts
1/4 cup mild chili powder
1 Tablespoon cumin
2 teaspoons onion powder
2 teaspoons Mexican oregano
1 teaspoon garlic powder
1 teaspoon regular or smoked paprika
1/2 teaspoon sea salt or Lawry's seasoned salt
1/2 teaspoon freshly ground black pepper
1/4 teaspoon cayenne pepper
Place the chicken thighs in a 4 to 7 quart slow cooker. Mix all seasonings together in a small mixing bowl. Sprinkle them over the meat. Toss to coat. Cover slow cooker and place it on the HIGH setting for 4 hours, or the LOW setting for 7 to 8 hours. Note: only cook chicken until it's just done. This is especially important if you're using chicken breasts as they have a tendency to dry out when overcooked.
for the burritos:
the seasoned, slow cooked chicken, drained
burrito-size flour tortillas
1 can black beans, rinsed and drained well, warmed
shredded cheddar cheese or Monterey Jack cheese
halved cherry tomatoes
salsa
ripe avocado, diced
sliced, fresh jalapeno peppers
fresh cilantro, chopped
sour cream and hot sauce, for topping
Warm the burrito tortillas between two paper towels in the microwave (this only takes about a minute.) Place on plates. Fill with some of the chicken, and any combination of the suggested ingredients above. Roll up and top with sour cream and hot sauce! YUM!
Enjoy!
~Melissa
You may enjoy these related posts: