Print Friendly Version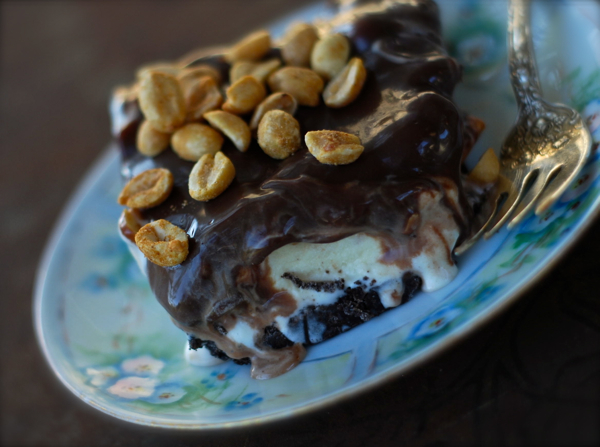 I've received several requests for this recipe since I posted the photo a few days ago. Originally I was going to post the recipe on Monday, but decided to share it in time for the holiday. These are awesome and taste just like the real thing! The only difference: WAY more ooey gooey chocolate! Enjoy.
for the crust:
1 lb. Oreo cookies (regular or double stuf)
1/2 cup (1/4 lb.) real butter, melted
Place the Oreos in the bowl of a food processor (you may have to do this in two or more batches, depending on the size of your food processor.) Pulse until the cookies are totally crumbled and uniform. Place all cookie crumbs in a mixing bowl. Combine with the melted butter and mix well. Press firmly and evenly into the bottom of a 9 x 13 cake pan. Place in freezer.
for the sauce:
1 heaping cup semi-sweet chocolate chips
1/2 cup butter, melted
1 (12 oz.) can sweetened condensed milk
1 teaspoon pure vanilla extract
Place all sauce ingredients in a medium saucepan. Heat over a low flame, stirring constantly, just until the chocolate is melted and all of the ingredients are combined and smooth. Remove from heat and set aside to cool almost completely.
For the ice cream-peanut layer:

1/2 gallon premium vanilla ice cream
2 cups dry roasted peanuts
Once the chocolate sauce is almost completely cooled, remove ice cream from it's container and cut it into 1 inch slices. Arrange slices on the Oreo crust. Smooth the gaps with a spoon so the crust is covered evenly with ice cream. Sprinkle 1 and 1/2 cups of the peanuts over the ice cream in an even layer. Spread the chocolate sauce over the peanut layer. Cover tightly with a cake pan lid or aluminum foil. Place the dessert back in the freezer and allow it to set and freeze for 8 hours. Slice, plate, garnish with the extra peanuts and serve!
XO,
~Melissa
You may enjoy these related posts: