Print Friendly Version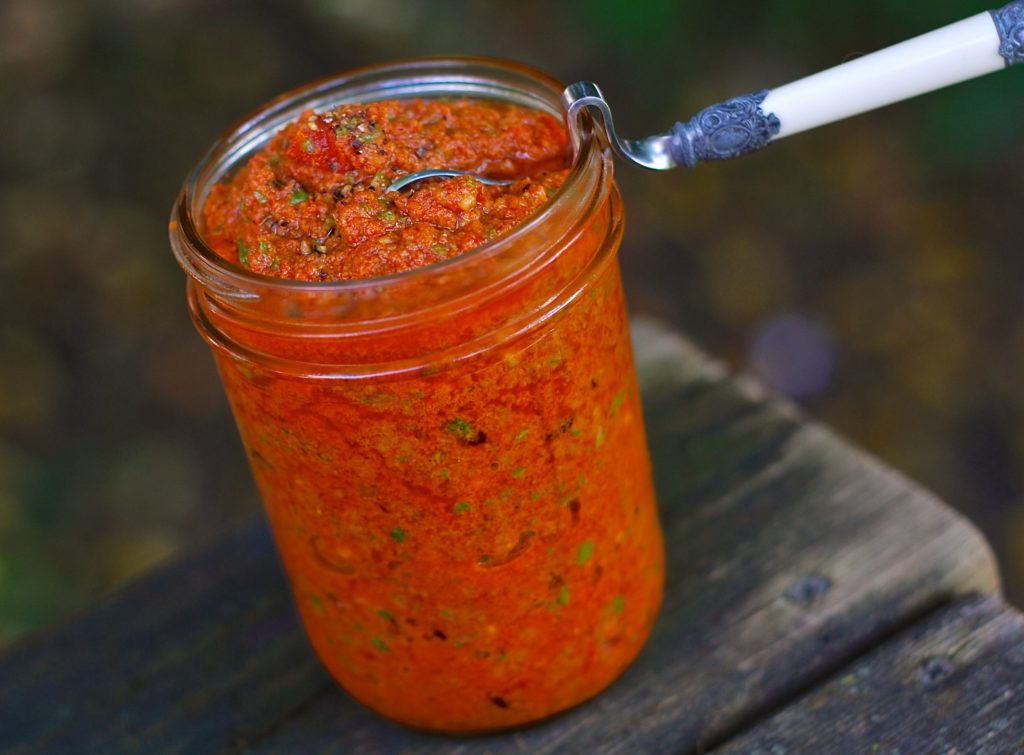 It's not that I don't ADORE classic basil pesto, because I do… but sometimes it's nice to try a different condiment. I've literally made four batches of pesto this summer. Pretty big batches too, and none, I repeat, none, of the jars were frozen. To be fair, I did give some away to friends and my kids. That being said, I think if you visited my house you may suspect that we use a lot of pesto compared to a typical American household. Guilty. Maybe I'll just start calling it Italian ketchup, because it really is!
So instead of the yoush (short for usual) basil pesto I decided to change it up. *Insert scared/surprised Bubbles face (from Trailer Park Boys) here.
It's so good. It may never take the place of Italian ketchup, but it's right up there.
1 cup mixed pecans, walnuts, pumpkin seeds, and almonds (or any combination of these nuts and seeds.)
2 to 3 Tablespoons dried cranberries
10.5 oz sundried tomatoes in oil, undrained
2 Tablespoons chopped serrano or jalapeno pepper (if you leave the seeds in, it's going to be spicier)
1/4 cup unfiltered, extra virgin olive oil
1/4 cup nutritional yeast
1 to 2 cloves fresh garlic
1 large handful fresh basil leaves
sea salt and freshly ground black pepper, to taste
Place all in the bowl of a large food processor. Process until everything is finely chopped and uniform. If you go longer than this it will turn into a sort of paste, which isn't necessarily a bad thing if you'll be stirring it into some sort of sauce. Use this pesto where ever you'd use the other stuff. Vegan cheese plate, pasta sauce, crostini… You get the idea.
Enjoy!
~Melissa
You may enjoy these related posts: