Print Friendly Version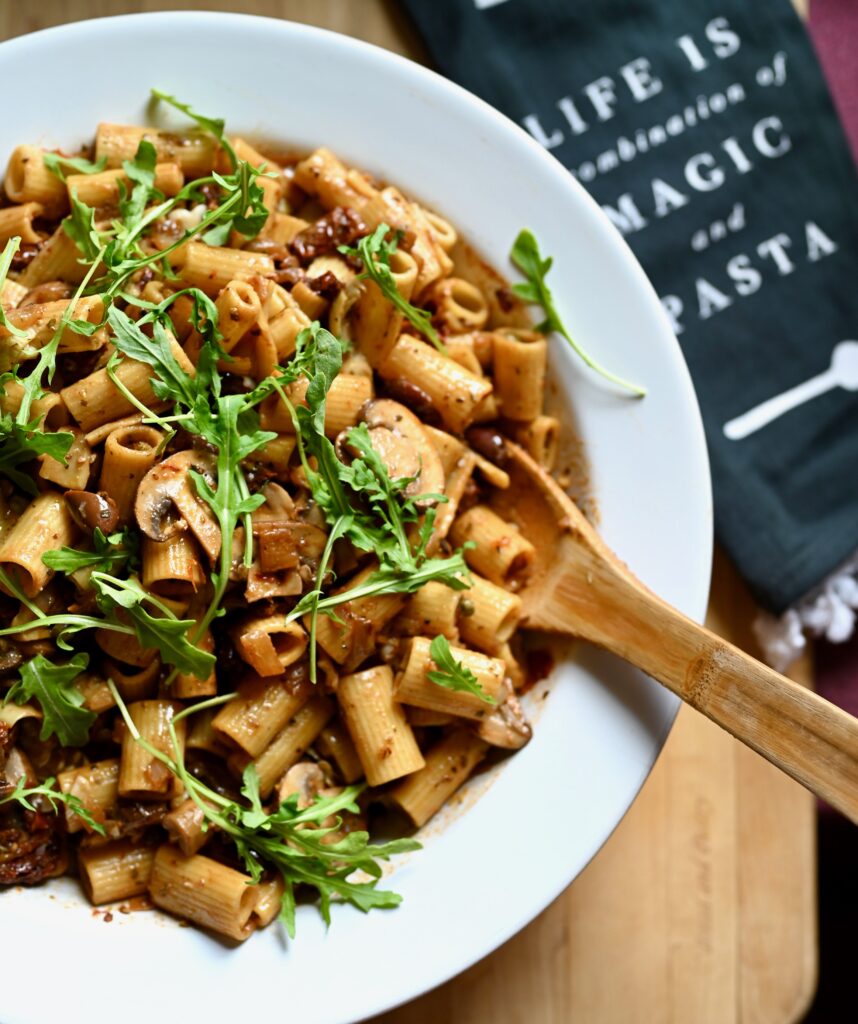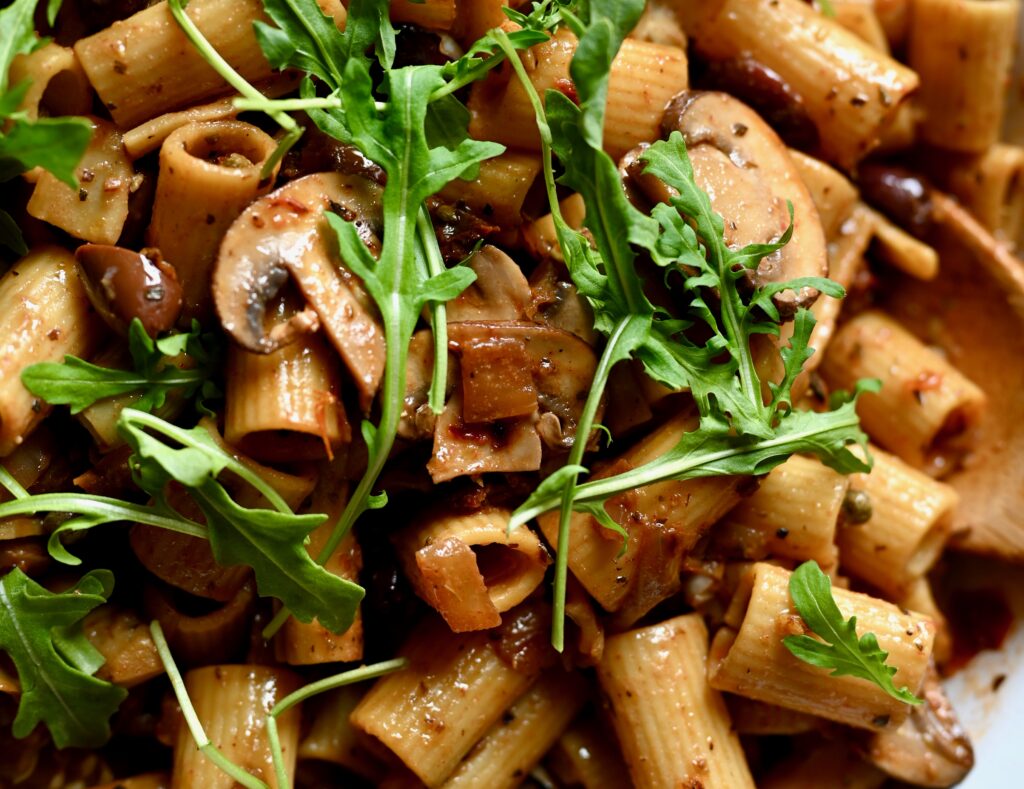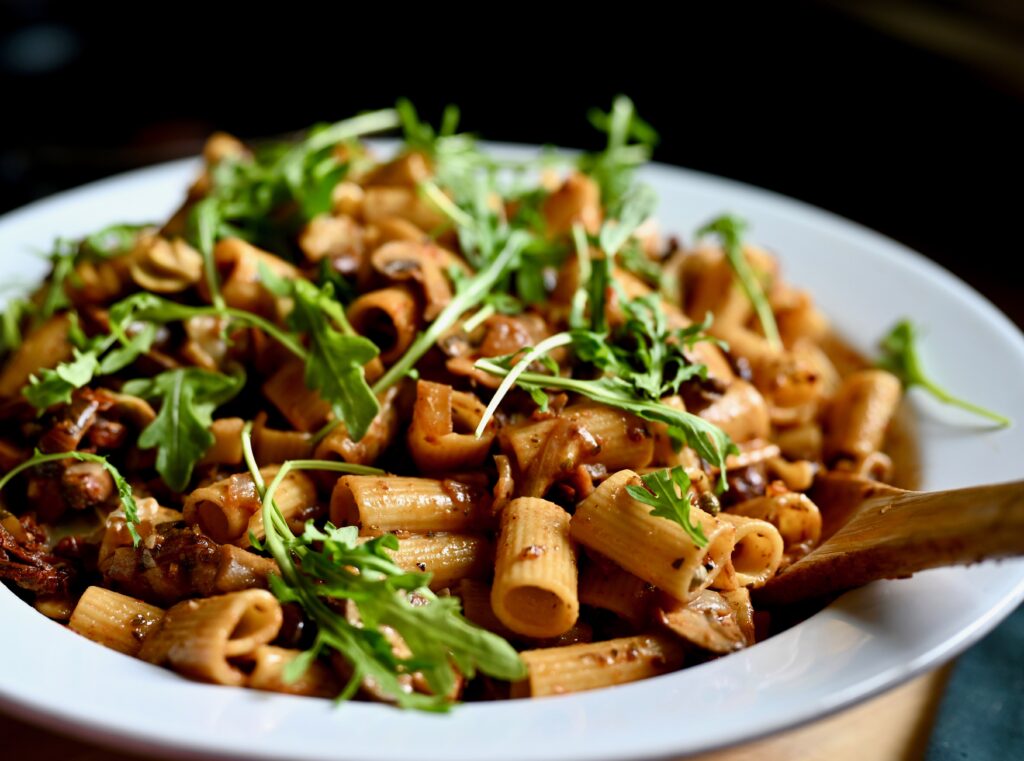 Hello, Friends!
Here's an easy pasta dish that is chock full of amazing ingredients. It's wonderful served warm with buttery garlic bread, or cold for a delicious lunch you can pack into a lunchbox or for a picnic.
You can use whatever pasta you like that catches sauce well, but my favorite one to use in this recipe is rigatoni. Orecchiette, fusilli, cavatappi would also work if you don't have rigs.
You could make this even saucier by topping it with a really good red sauce. Our current favorites are Mezzetta marinara, Victoria's marinara, or Rao's marinara. (If you don't want to make homemade sauce.)
We have a pasta night at least once a week, and this is a great way to change it up. It's easy enough for a casual weeknight meal, but fancy enough to serve to company. It would be fantastic with a good, dry Chianti or red zinfandel.
for the pasta and veggies:
16 oz. rigatoni noodles
1 Tablespoon olive oil
1 large onion, coarsely chopped
6 large cloves garlic, minced
1/4 c. dry white wine
8 to 10 oz. fresh mushrooms (we used portobello) sliced
8 oz. sun dried tomatoes in oil (drained), chopped
12 oz. marinated artichoke hearts, reserve marinade, cut into quarters
1/2 c. halved kalamata olives
4 oz. capers, drained
Cook pasta according to package directions for al dente pasta. Drain and pour into a large bowl. Set aside.
Heat olive oil in a skillet and saute the chopped onion and sliced mushrooms in the oil until tender, translucent, and slightly browned. Add garlic and cook an additional minute. Deglaze pan with the white wine. Cook an additional minute and remove from heat. Gently stir this mixture into the pasta, along with the chopped sun dried tomatoes, quartered artichoke hearts, Kalamata olives, and capers.
For the sauce:
the marinade from the jar of artichokes
1/4 cup white wine vinegar
juice of one large lemon
1/2 c. unfiltered extra virgin olive oil (or the best you can find)
3 Tablespoons nutritional yeast
1 teaspoon onion powder
1 teaspoon garlic powder
2 Tablespoons dried oregano
sea salt and freshly ground pepper, to taste
Whisk to combine and pour over the pasta and vegetables. Mix until everything is evenly incorporated. Be gentle so you don't break the pasta.
Top with baby arugula leaves, toasted pistachios or pine nuts (optional,) vegan Parmesan cheese, and red pepper flakes (to taste.) Serve.
Enjoy!
~Melissa
You may enjoy these related posts: