Print Friendly Version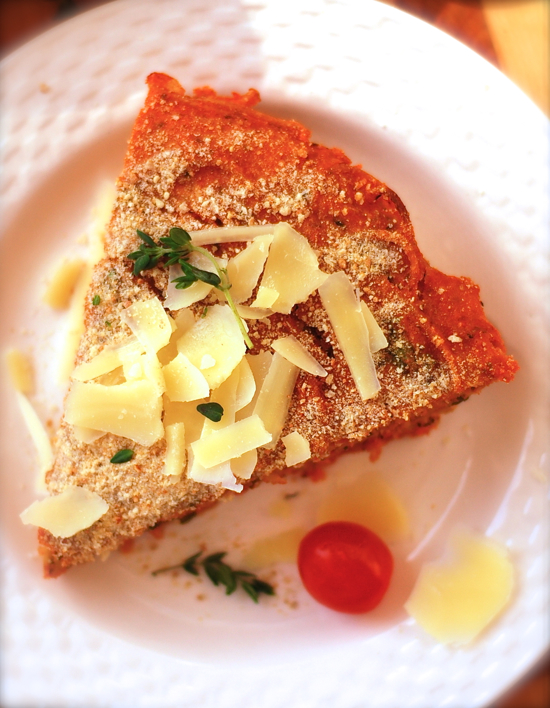 This little spaghetti pie is going to make you want to sing along with Dean Martin's "Italian Love Songs" CD! A beautiful, warming pasta dish that's wonderful any time of year. This photo was taken this past summer when we made spaghetti pie for date night. We lit candles and set them in jars all over the deck, sat at our umbrella table, listened to Dino, sipped wine, and pretended we were dining on a piazza in Rome. Do you do stuff like this? It's fun. Food, music and mood can be completely transporting. Try it. 😉
1/2 lb. lean ground beef
1/2 lb. bulk Italian sausage (sweet or hot, whatever you prefer)
1 small onion, chopped fine
3 large cloves garlic, minced
1/4 cup fresh basil, chopped fine
1 teaspoon sea salt
1 teaspoon freshly ground black pepper
15 oz. diced tomatoes
28 oz. spaghetti sauce
1 lb. thin spaghetti cooked al dente and tossed with 2 Tablespoons olive oil
2 cups shredded mozzarella cheese
1/2 cup shredded Parmigiano Reggiano cheese (or any fresh Parmesan cheese)
Preheat oven to 350 degrees F.
Brown beef and sausage for two minutes. Add onion, saute for an additional three minutes. Add garlic, basil, salt and pepper. Cook for one minute more. Lower heat. Add tomatoes and spaghetti sauce. Simmer for five minutes.
Place cooked noodles in a large mixing bowl. Toss with the olive oil. Pour meat sauce over. Mix until evenly combined. Spread into a buttered, 10 inch, deep dish, glass pie plate. Top with the mozzarella cheese. Bake for 25 minutes at 350. Remove from oven. Rest for 15 minutes before slicing. Garnish with fresh herbs and freshly grated Parmesan cheese. Salt and pepper to taste.
Enjoy with your favorite red wine!
~Melissa
You may enjoy these related posts: