Print Friendly Version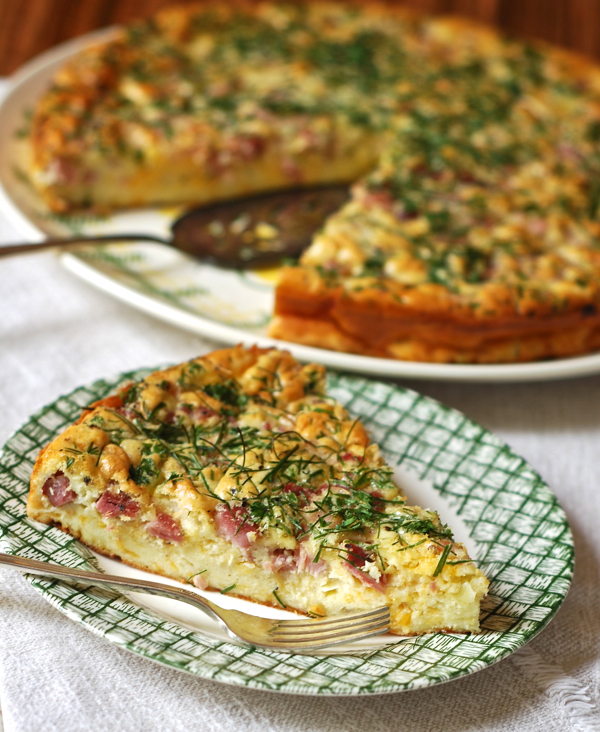 Happy July, Friends. Can you believe it's already July? Where did June go? Maybe I didn't notice it because it rained all month! I must have mistaken it for April. Hmmmmm…. Well here we are at the beginning of another month. We're making plans for our staycation, and for the 4th, and for a very special wedding photo shoot this weekend (I'm making the cake! I can't wait! more details on that later… but I did order a bunch of crystallized roses from my friend Karen, the crystallized flower goddess… they add so much beauty to everything they touch. I'm going to use a BUNCH!)
After I came home from my walk this morning I decided to edit a bunch of photos so I can share some new recipes with you. This crustless Quiche Lorraine turned out magnificent! Really and truly one of the best quiches I've ever made. I'm including the recipe for it (pictured above,) and another favorite recipe for this classic quiche too. The version with the pastry crust is a recipe by one of my favorite authors, the adorable Gladys Taber. I love it both ways.
~Crustless Tearoom Quiche Lorraine ~
6 large eggs
3 egg whites
3/4 cup Bisquick
1 cup cream
2 teaspoons Dijon mustard
1/2 teaspoon nutmeg
1/2 teaspoon salt
1 teaspoon freshly ground black pepper
2 and 1/2 to 3 cups shredded cheddar-jack cheese
1 small onion, chopped
1 Tablespoon unsalted butter
1 and 1/2 to 2 cups chopped honey-baked ham
a handful of fresh chives, snipped
2 Tablespoons fresh parsley, chopped fine
Line a deep quiche pan with parchment and spray with cooking spray…or use a silpat/Demarle silicon pan which needs no preparation.
Saute the chopped onion in the unsalted butter until translucent and tender. Set aside.
In a large mixing bowl, combine the eggs, egg whites, Bisquick, cream, mustard, nutmeg, salt and pepper. Whisk until light and airy.
Line the pan with the shredded cheese in an even layer. Next, sprinkle the onion and chopped ham evenly over the cheese. Pour the egg mixture over everything, and smooth with a rubber spatula so everything in the pan lays as evenly and flat as possible. Sprinkle the top with the chopped chives and parsley.
Bake at 375 degrees F. for 30 to 40 minutes or until the center is just set and the top is a light golden brown. Don't over-cook or your quiche will become tough. Allow quiche to cool for about 15 to 20 minutes prior to slicing and serving. Enjoy!
~ Gladys Taber's Quiche Lorraine ~
from her book, Stillmeadow Calendar
"Serve with fruit salad and coffee." ~Gladys Taber
10 inch pie crust in a tin or pie plate, pricked with a fork a few times
1 cup grated Swiss cheese
4 eggs, beaten
2 cups cream
pinch cayenne
pinch sugar
1 teaspoon seasoned salt
1 small onion, diced
8 slices bacon, fried until crispy
Beat eggs and cream add sugar and seasonings. Cool bacon and crumble. Saute onion in butter until transparent. Butter pastry lightly. Sprinkle bacon into the crust first, followed by the cheese and then the egg mixture. Bake at 450 degrees F. for 12 minutes. Reduce heat to 325 degrees F. and cook for an additional 20 minutes or until a knife inserted in center of quiche comes clean.
Enjoy!
~Melissa
You may enjoy these related posts: