Print Friendly Version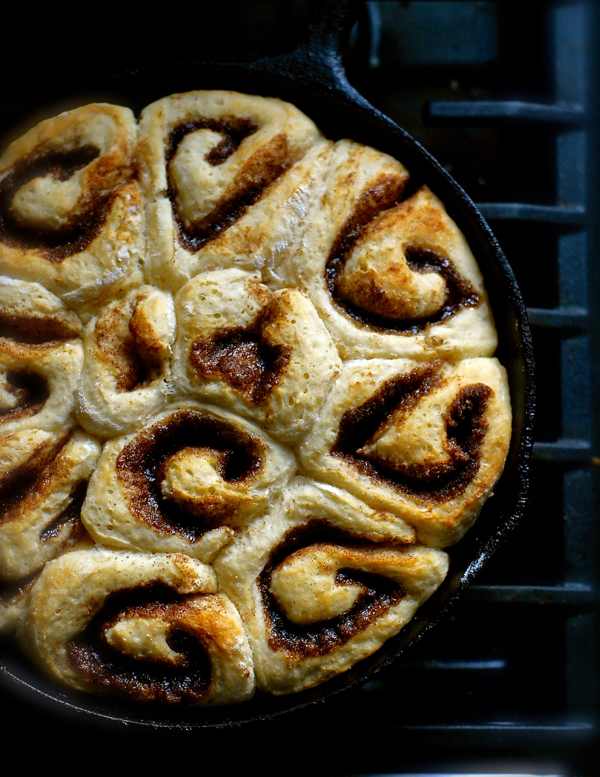 These are delicious and pretty easy to prepare. The homemade dough actually goes together much quicker than I thought it would. I baked mine in a cast iron skillet, but you could use a 9×9 square baking pan if that's all you have.
For the dough:
3 cups all-purpose flour
1 Tablespoon sugar
2 teaspoons quick-rise instant yeast
1 teaspoon salt
1 Tablespoon vegetable or canola oil
1 and 1/2 cups warm water
1/4 cup melted vegan butter (I like Miyokos)
In a big bowl, combine flour, sugar, yeast, and salt. Make a well in the middle of the dry ingredients and add the vegetable oil and warm water. Mix until dough comes together. Dough will be sticky. Knead 15 times on a lightly floured work surface, using as little flour as possible. Allow dough to rest, covered, for 10 minutes.
Lightly flour a work surface and roll dough out into a rectangle approximately 18 x 12 inches and so the dough is about 1/2 inch thick. Brush butter on surface of dough.
for the filling:
1/2 cup brown sugar
1 Tablespoon cinnamon
1/4 teaspoon salt
Mix these ingredients together in a small bowl and sprinkle them evenly over the butter on the dough. Starting with a long edge, roll the dough into a tight log shape. Cut into 12 rolls using a very sharp knife.
Butter a 10 to 12 inch cast iron skillet with more vegan butter. Place rolls in pan. Cover with plastic wrap and place in a warm, dry place (I always place mine on top of a warm, preheating oven) and allow rolls to rise until doubled in size, for approximately 1 hour.
~ preheat oven to 350 degrees F. ~
When ready to bake, uncover rolls and bake in preheated oven for 35 to 40 minutes, or until tops are golden brown. Allow rolls to cool almost all the way before frosting.
for the frosting:
1 and 1/2 cups powdered sugar
2 Tablespoons vegan butter, softened to room temp.
1 teaspoon pure vanilla extract
2 Tablespoons almond milk (or whatever plant-based milk you prefer)
pinch of salt
Whisk all ingredients in medium mixing bowl. Spread over rolls.
These are best served immediately. Store any leftovers at room temperature in an airtight container. Warm up leftover rolls individually in the microwave for 20 to 30 seconds.
Enjoy!
~Melissa

You may enjoy these related posts: