Print Friendly Version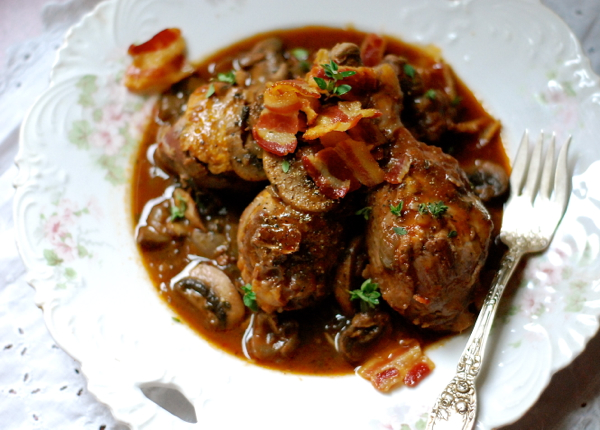 This is delicious, easy and elegant comfort food. This version turns out every bit as good as the more involved version where you roast it in the oven. You do have to brown a couple things before layering everything in the slow cooker, but it's worth it and not difficult at all.
Serve this beautiful dish with hot egg noodles, dumplings, rice, or mashed potatoes. The sauce is rich and fragrant and makes a lovely gravy. I like it brothy, but you certainly can thicken it up a bit by simply adding a couple tablespoons of quick cooking tapioca to the slow cooker along with everything else.
serves 4 to 6 people
1 lb. bacon, (1 inch dice)
3 and 1/4 lb. chicken pieces (skin on, bone in) I used all drummies this time
2 cups dry red wine
1/4 cup fresh parsley, chopped
4 fresh thyme sprigs
2 large onions, coarse chopped
1 lb. fresh mushrooms, washed and sliced
4 large cloves garlic, minced
1/4 cup unsalted butter, divided
1 small can tomato paste (approximately 1/4 to 1/3 cup)
1 cup water
2 to 3 Tablespoons quick cooking tapioca (optional)
1 to 2 lb. baby organic carrots, left whole (peeled, if you wish)
freshly ground black pepper
Cut up bacon into 1 inch pieces. Fry until crispy and reserve a few tablespoons of the drippings. Set aside half of the bacon pieces, and reserve the other half for garnish.
Brown the chicken in the bacon drippings, cooking approximately 2 minutes on each side, just until lightly seared and barely golden. (You'll have to do this in batches.) Transfer seared chicken to slow cooker as you work.
Add 2 Tablespoons butter to the drippings in the skillet. Brown the mushrooms in the drippings. Transfer to slow cooker. Add the rest of the butter to the skillet and cook the onions until translucent. Transfer onions to slow cooker.
Place wine, parsley, thyme, garlic, tomato paste, tapioca (if using), and water in slow cooker. Add a little more wine or water if you need to, just so everything is under liquid. Place half of the bacon pieces, and then the carrots, on top and gently push those below the liquid too. Sprinkle some freshly ground pepper over the top of everything.
Cover slow cooker and place on the LOW setting for 6 to 8 hours, or until chicken is almost falling off the bone. Serve with desired sides and garnish with the reserved, fried bacon pieces and fresh thyme leaves. Salt and pepper, to taste.
Enjoy!
~Melissa
You may enjoy these related posts: