Print Friendly Version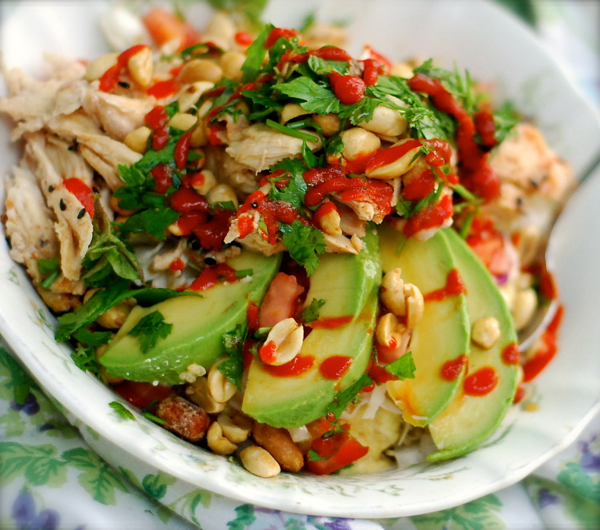 Looking for a delicious, easy and healthy meal idea that goes together in seconds and won't heat up your kitchen? You've come to the right place. Make up a big batch of brown rice, white rice or quinoa. Cover it and put it in your fridge. That will be the base of your Yumm Bowl. Now make a batch of the Yumm Sauce (recipe below.) Put that in the fridge to chill too.
To make the Yumm Bowls, use your imagination and what you have in the fridge. Mine turn out different every time, which is part of the charm of this dish. Keeps it interesting too.
This creation is very loosely based on the awesome Cafe Yumm's Original Yumm Bowl recipe. I made lots of changes, so if you're familiar with the cafe, you can compare and see which one you like more 🙂
I like to serve these cold, but if you prefer them warm, just heat up your rice/noodles/quinoa and meat a little before putting your bowl together.
Anatomy of a Yumm Bowl:
Layer ingredients in the order given…
Layer 1: 1/2 cup to 1 cup cooked brown rice, white rice, whole grain noodles or quinoa
Layer 2:  2 to 3 Tablespoons Yumm Sauce (recipe below)
Layer 3: cheese of your choice (we adore chevre)
Layer 4: veggies and salad greens of your choice (I used avocado, slaw, tomato and onion)
Layer 5: Meat and/or beans of your choice (I used  grilled chicken and 5 bean salad this time)
Layer 6: Coarsely chopped nuts and/or seeds (I used unsalted peanuts and black toasted sesame seeds)
Layer 7: a drizzle of Teriyaki, ponzu, soy sauce or thai peanut sauce (or whatever sauce you prefer)
Layer 8: Hot sauce, fresh salsa or fresh pico de gallo of your choice (I used Sriracha)
Layer 9: fresh, chopped cilantro, chives, parsley and oregano
Yumm Sauce: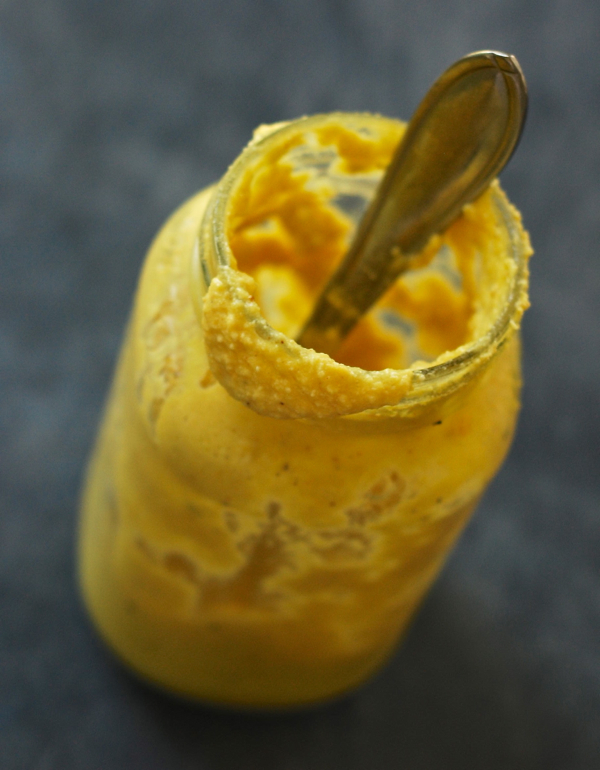 1/2 cup extra virgin olive oil
1/2 cup almond flour/almond meal
1/3 cup nutritional yeast OR 3/4 cup finely grated Parmesan cheese
3/4 cup chickpeas, rinsed and drained well
1/2 cup filtered/purified water
1/4 cup fresh lemon juice
1/4 cup fresh lime juice
2 teaspoons sweet curry powder
1/2 teaspoon smoked paprika
dash of cayenne pepper
1/2 teaspoon sea salt (optional)
freshly ground black pepper, to taste
Place all ingredients in the bowl of a food processor. Puree until smooth. Transfer to a canning jar or other glass container. Cover tightly and refrigerate until ready to use. This will keep in your fridge for 10 days.
Enjoy!
~Melissa
You may enjoy these related posts: