Print Friendly Version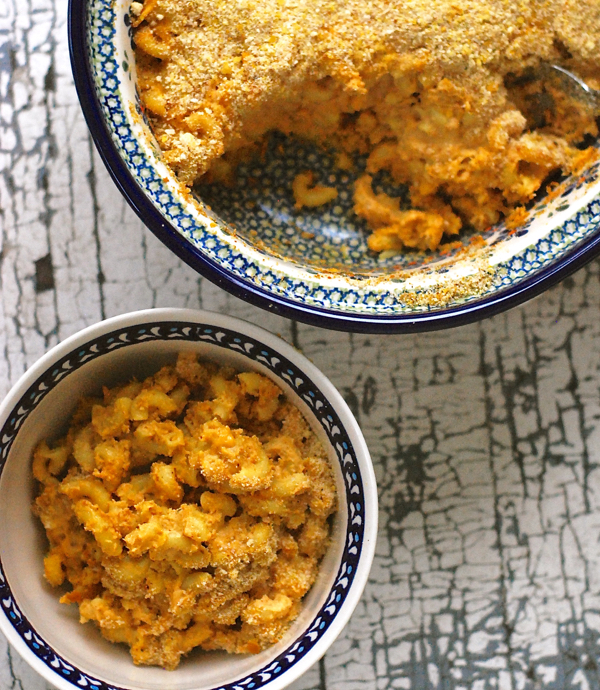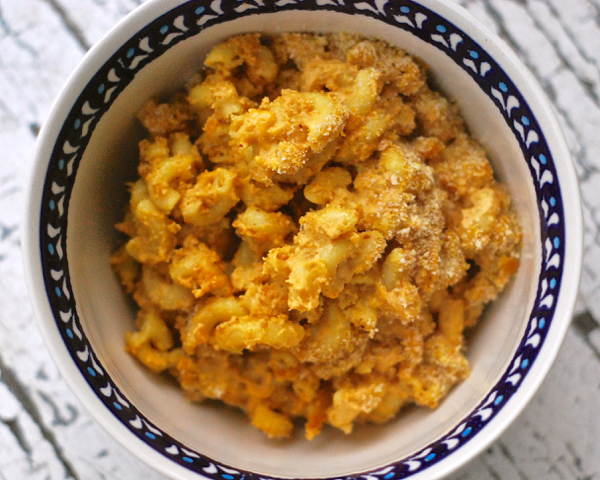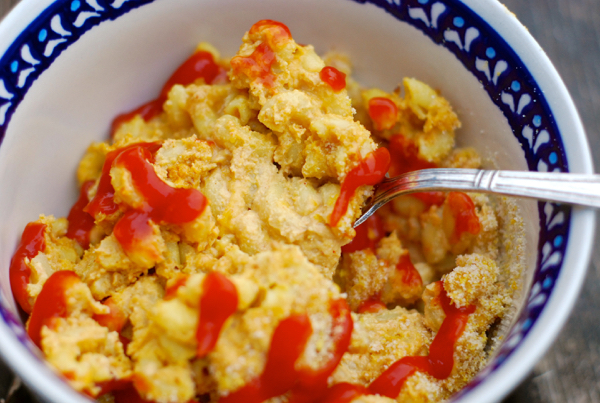 So I looked around for a good vegan mac and cheese recipe and none of them were cheesy enough. They were weird and dry. I stopped my search and decided it was time to just create a recipe of my own. I know some of the measurements look a little outrageous but you have to trust me. Mine is the first vegan recipe for mac & cheese that doesn't remind me of sawdust and sadness. It's super creamy. That being said, it's definitely better right out of the oven. After you refrigerate the leftovers you'll have to drizzle single portion sizes with a little more soy milk before reheating in the microwave to moisten it up again. The leftovers are still very, very good and light years ahead of any other vegan mac I've tasted to date.
~ preheat oven to 350 degrees F. ~
3 cups dry elbow macaroni pasta
for the cheese sauce:
2 and 1/2 cups cashews, soaked overnight and drained
1/4 cup soft steamed carrot slices
1 and 1/2 cups plain, unsweetened soy milk (not 'lite')
1/3 cup canola oil
2/3 cup nutritional yeast
1/2 cup apple cider vinegar
1 Tablespoon sriracha hot sauce
2 teaspoons garlic powder
2 teaspoons onion powder
salt and pepper, to taste
chipotle pepper powder, to taste
2 cups Daiya shredded vegan cheddar cheese
Cook macaroni according to package directions for al dente pasta (I cooked mine for 6 minutes.) Drain well, place in a large mixing bowl, cover, and set aside.
Place prepared cashews, carrots, soy milk, oil, yeast, vinegar, sriracha, garlic powder, and onion powder in the bowl of a large blender. Pulse and scrape down sides of blender as needed until the cheese sauce is very smooth. Salt and pepper to taste. Add some chipotle pepper powder, a tiny bit at a time, until you reach desired level of heat and smokiness.
Grease a large casserole pan with vegan butter. Pour cheese sauce over pasta in mixing bowl. Mix well. Add Daiya cheddar, and mix again. Pour mac and cheese into the prepared casserole dish.
for the crumb topping:
1/4 cup nutritional yeast
2 Tablespoons almond meal
2 Tablespoons unseasoned, dry bread crumbs
Mix together in a small bowl. Sprinkle evenly over mac & cheese. Cover casserole tightly with foil. Bake in preheated oven for 25 minutes. Uncover and bake an additional 10 minutes.
Remove from oven and serve. I love topping mine with copious amounts of ketchup, but that's definitely optional.
Enjoy!
~ Melissa

You may enjoy these related posts: