Print Friendly Version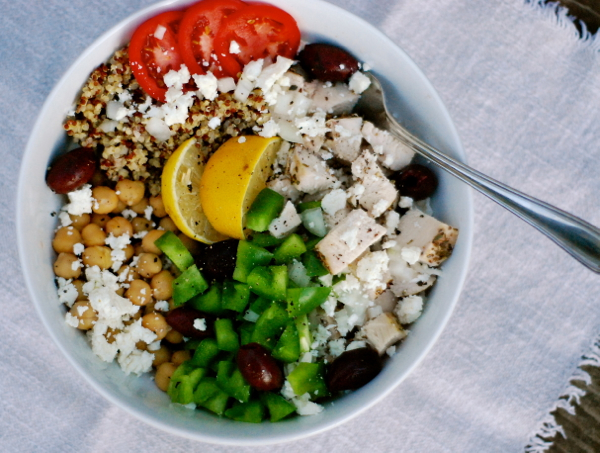 We love healthy grain bowls, and make up the ingredients for them at least once a week. It's so great to have all the stuff for a good lunch or dinner bowl on hand so you can throw a meal together in minutes.
Here's our latest! We were in the mood for Greek. Thus, the Gyro Bowl was born! Serve them hot or cold. They're delicious both ways!
for 4 gyro bowls:
2 cups cooked quinoa, rice, or noodles
2 to 3 cups cooked chicken, beef, or lamb (cut into cubes)
1 cup chopped sweet bell pepper
1/2 cup chopped sweet onion
1 to 2 cups canned chickpeas, rinsed and drained well
4 Roma tomatoes, sliced or 16 grape tomatoes
20 Kalamata olives (or more)
1 cup crumbled Feta cheese
Greek Tahini Dressing (recipe below)
salt and pepper, to taste
lemon wedges, garnish
toasted pita wedges, or naan (optional)
Divide ingredients evenly between 4 single serving pasta bowls. Top each with a drizzle of my homemade Greek Tahini Dressing. Place little toasted pita wedges along the side of each bowl, if  you wish.
~ Greek Tahini Dressing ~
Juice and zest of two large, juicy lemons
1/4 cup white wine vinegar
1/3 cup extra virgin olive oil
2 to 3 large cloves garlic, minced
1 Tablespoon sugar or honey
1 heaping Tablespoon fresh or dried oregano leaves (chopped fine if fresh)
sea salt and freshly ground black pepper, to taste
3 Tablespoons Tahini (sesame butter)
Place all ingredients in a canning jar. Cover tightly and shake to emulsify. Thin with a little splash of water, if needed. Refrigerate any you don't use right away. This dressing will keep, refrigerated, for one week.
Enjoy!
~Melissa
You may enjoy these related posts: