Print Friendly Version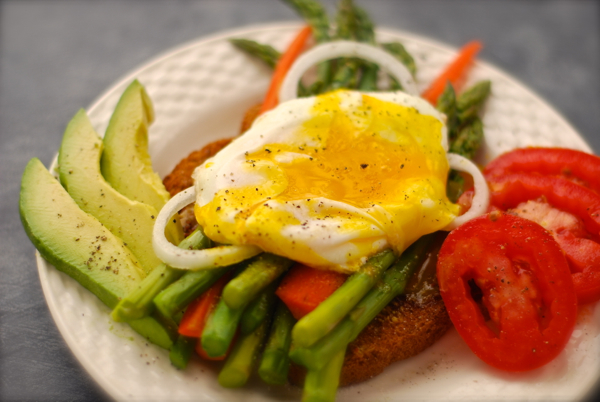 Yummy! Sometimes nothing hits the spot like garlic toast topped with eggs. Today I took it to a new level and added tons of fresh veggies and grated cheese. (Grated cheese not shown because then you wouldn't have been able to see anything else, it just would have looked like a plate of cheese.) This was so delicious! What is your favorite breakfast food?
serves 1
1 piece of whole grain or sprouted grain bread, toasted
butter
garlic powder
grainy brown mustard
steamed asparagus
steamed carrot sticks
a few little rings of thinly sliced onion, or one chopped scallion
1/2 sliced Roma tomato
a few thick wedges avodaco
1 egg, soft cooked
sea salt and freshly ground black pepper
1/4 cup grated white cheddar cheese (or your favorite)
Butter toast, sprinkle with a little garlic powder and spread on some grainy mustard. Assemble ingredients on plate as shown.
Enjoy!
~Melissa
You may enjoy these related posts: