Print Friendly Version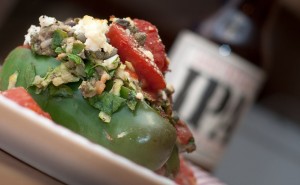 These were absolutely out of this world wonderful . I was a little skeptical when I first viewed the all very healthy ingredients. I decided the recipe was a total success when my husband and nine year old daughter devoured their first helping and asked for seconds. Ellie Krieger's book "The Food You Crave" is a pain free way to succeed in eating healthy in 2010
1 pound lean ground beef
1 (10-ounce) package frozen chopped spinach (or fresh spinach), thawed and squeezed dry
1 medium zucchini, coarsely grated (about 2 cups)
1 small onion, minced (about 1 cup)
1/2 cup bulghur or cooked brown rice
1 egg, lightly beaten
1/2 teaspoon dried oregano
1/2 teaspoon salt
Freshly ground black pepper
3 red bell peppers, halved lengthwise, cores and ribs removed
2 (14 1/2-ounce) cans low-sodium stewed tomatoes, finely chopped
1/3 cup crumbled feta cheese
freshly grated Parmesan cheese
Preheat the oven to 350 degrees F.
In a large bowl combine the beef, spinach, zucchini, onion, bulghur, egg, oregano, salt and a few grinds of pepper. Mix until thoroughly combined.
Arrange the pepper halves cut side up in a 9 by 13-inch baking dish and fill each pepper half with the meat mixture. Pour the tomatoes over the peppers and sprinkle with the feta cheese. Cover with foil and bake for 30 minutes. Uncover and bake until the meat mixture is completely cooked and the peppers are tender, about 25 minutes longer. sprinkle with Parmesan cheese before serving. Enjoy!
xo,
Melissa
You may enjoy these related posts: