Print Friendly Version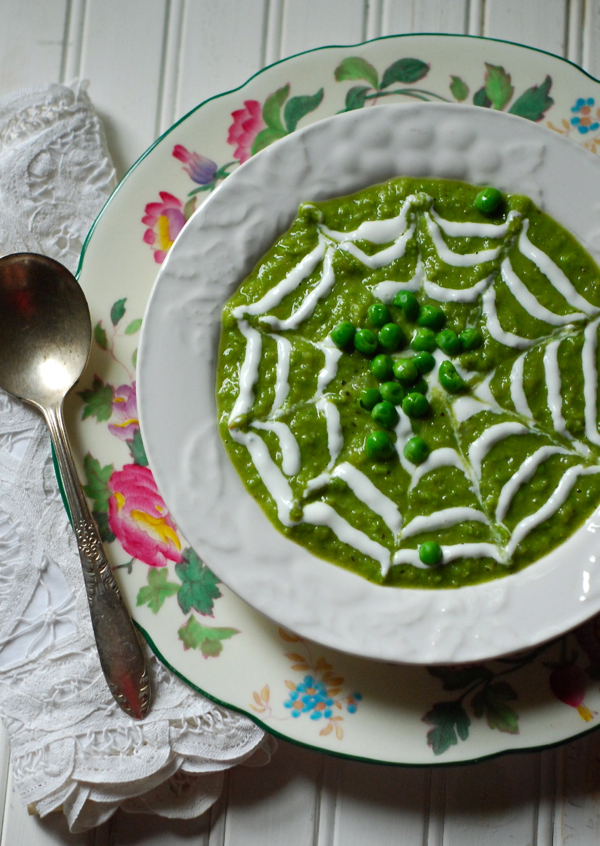 We had such an amazing weekend. I'm so happy that spring is finally here and we can walk around outside without big jackets, boots, mittens, scarves and hats. Everything feels light and fresh and dewy. Soon the trees will be budding and the grass will turn green and I'll be thinking about planting my herb garden and flowers.
This delicate, fresh pea soup just sings spring to me. The color alone makes me think garden party or lunch on the front screened-in porch. You can make this with fresh, garden peas or thawed frozen peas. It's so easy and delicious, and it's wonderful served hot or cold. I like my pea soup thick, but you certainly can thin yours out with a bit more chicken or vegetable stock to get the consistency you prefer.
~ makes 4 bowls, or 8 teacup servings ~
1 Tablespoon extra virgin olive oil
1 and 1/2 cups finely chopped onion (any type except purple)
 2 and 1/2 cups low sodium chicken or vegetable broth/stock (I used homemade)
1 Tablespoon finely chopped fresh tarragon or 1 teaspoon dried
1/2 teaspoon sea salt
freshly ground black pepper to taste
1 lb. fresh peas (or frozen peas, thawed)
1/4 cup plain greek yogurt
2 Tablespoons heavy whipping cream
a few extra, whole peas for garnish
In a large stock pot, or Dutch oven, heat the oil over medium-low heat. Add the onion and saute for 5 minutes. Add broth, tarragon, salt and pepper. Bring to a boil and then add the peas. Cook until just heated through.
Puree the soup until very smooth using an immersion blender or in two batches using a food processor/blender.
Serve hot or transfer to a glass bowl with a lid, place in refrigerator and chill until cold.
To serve: Ladle the soup into bowls or teacups. Place the yogurt and cream in a squeeze bottle. Shake to combine. Squeeze a swirl of the yogurt mixture on the top of the soup. Using a butter knife, make lines from the center of the swirl to the outside edge of the bowl/cup. Garnish with a sprinkle of fresh, whole peas.
Enjoy!
~Melissa
You may enjoy these related posts: