Print Friendly Version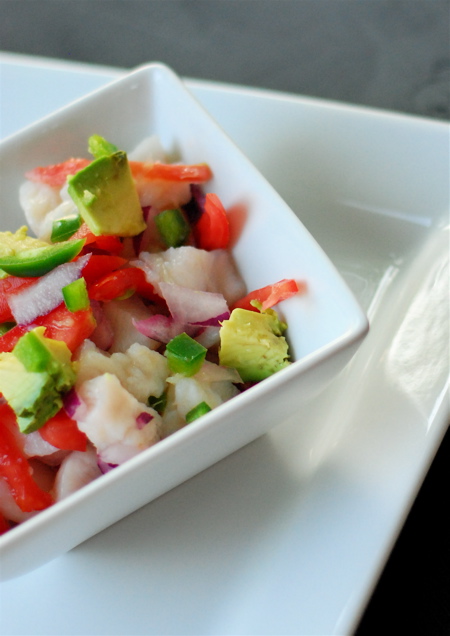 ~ ceviche ~
Ceviche is a cold, refreshing dish that is made by soaking fish in cirtus juice to cook it. The acid from the citrus turns the fish white and firm, and lends a beautiful, bright flavor that is unlike any other fish I have ever tasted. We had this as often as possible when we were vacationing in Mexico's Riviera Maya, and are excited to try other types of fish like scallops and shrimp in the future.
Yesterday we used a simple whitefish, and it turned out pretty darn good.
Here's how we did it…
1 lb. whitefish (like tilapia, swai, sea bass or red snapper)
Juice of 3 large lemons and 4 limes
1 seeded, chopped Roma tomato
1/4 cup chopped purple onion
2 jalapeno peppers, seeded and chopped fine
1/4 cup chopped cilantro
salt and pepper
sriracha
avocado
corn chips
Cut fish into small, uniform chunks. Place in a bowl and pour the citrus juice over the fish. The fish should be completely covered. You may have to add more citrus juice at this point. Cover bowl with plastic wrap and place in refrigerator. Chill until the fish is white and firm throughout…there shouldn't be any pink parts. (We just made this in the morning so it would be ready for dinner…you can't really "overcook" it.)
Remove from fridge. Drain off the citrus juice and gently squeeze it to remove excess moisture. Add the tomatoes, onion, jalapenos. Season to taste with salt and pepper. Serve with cilantro, Sriracha, avocado chunks and corn chips.
Enjoy!
~Melissa
You may enjoy these related posts: