Print Friendly Version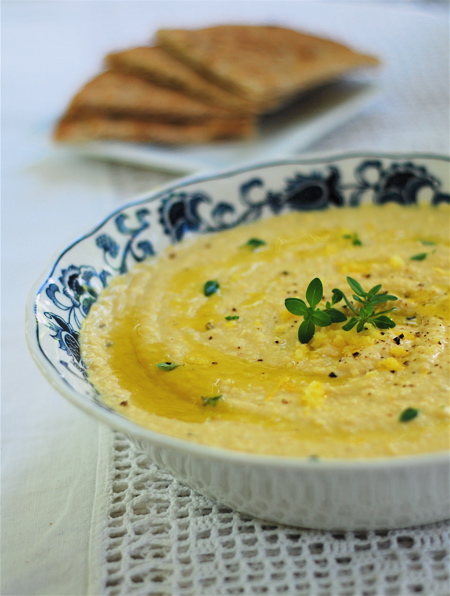 ~ lemon hummus ~
serves 8 to 10
prep time- 5 to 10 minutes
cook time- 0 minutes (no cooking necessary)
Do you buy your hummus premade? We use to until I discovered how easy it is to make at home. It tastes so much better and fresher, and I love how versatile of an appetizer it is. I posted my recipe for toasted sesame hummus awhile back, and I keep forgetting to take a photograph of it.
Here's my new recipe. I was inspired to make up a batch after my friend Ann over at Sumptuous Spoonfuls featured our lovely Mia's recipe on her blog. (Which  looks marvelous by the way, and I can't wait to try it. go on over and take a gander.)
2 cans drained chickpeas
juice of one large lemon
2 teaspoons lemon zest
1/3 cup plain greek yogurt
1/4-1/3 cup extra virgin olive oil
salt, pepper and fresh thyme (to taste)
garnishes: smoked paprika, fresh Parmesan cheese, capers, Sriracha
Combine the chickpeas, lemon juice, lemon zest, yogurt and oil in the bowl of a food processor or blender. Blend until completely smooth and creamy, adjusting the olive oil content as needed. Salt and pepper to taste. Drizzle a little more oil over the top and serve with any or all of the suggested garnishes, fresh thyme and fresh toasted pita! also wonderful on wrap sandwiches!
Enjoy!
~Melissa
You may enjoy these related posts: