Print Friendly Version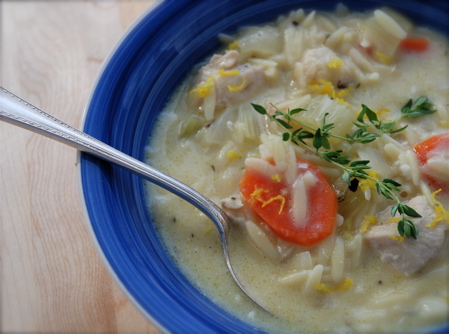 ~ lemon chicken soup with orzo ~
"Of all the items on the menu, soup is that which exacts the most delicate perfection and the strictest attention."~Auguste Escoffier
We love love love soup in this house. A couple days ago I was watching the snow was fall outside my kitchen window as I made a big pot of this fragrant, delicious ambrosia. This is a very healthy soup, and the eggs added to the broth at the end makes it creamy and rich without all the fat and calories. Enjoy with a slice of THIS bread and a glass of sauv blanc or vouvray.
1/4 cup extra virgin olive oil
3 big boneless, skinless chicken breasts cut into small chunks
1 teaspoon salt
1 medium onion, diced
2 stalks celery, diced
2 medium carrots, diced
2 Tablespoons fresh thyme
6 cups low-sodium, organic chicken broth
1 cup orzo
zest of 1/2 lemon
juice of one lemon
2 large eggs
freshly ground black pepper to taste
Heat 2 Tablespoons of the oil in a big soup pot over medium-high heat. Season the chicken with salt and add it to the pot. Cook, stirring a few times for about 5 minutes, or until just cooked through. Transfer the chicken to a dish and set aside.
Add the 2 remaining Tablespoons oil to the pot. Add the onion, celery, carrot and thyme and cook over medium-high heat, stirring occasionally, until the vegetables are tender (about 5 minutes.) Add 5 cups of the broth and bring to a boil. Add the orzo and allow to simmer until tender, about 8 minutes. Lower the heat down to keep the soup hot but NOT boiling.
In a separate saucepan, warm the remaining 1 cup of broth until it is hot, but NOT boiling. In a medium bowl, beat the eggs. Gradually beat the lemon juice into the eggs. Slowly add to the hot broth in the saucepan, whisking constantly until the broth and egg mixture are fully incorporated. Add this to the soup, stirring well until thickened. Don't allow the soup to come to a boil or it will scramble your eggs. Add the cooked chicken to the soup. Add the pepper and more salt if needed. Serve.
Enjoy!
~Melissa
You may enjoy these related posts: