Print Friendly Version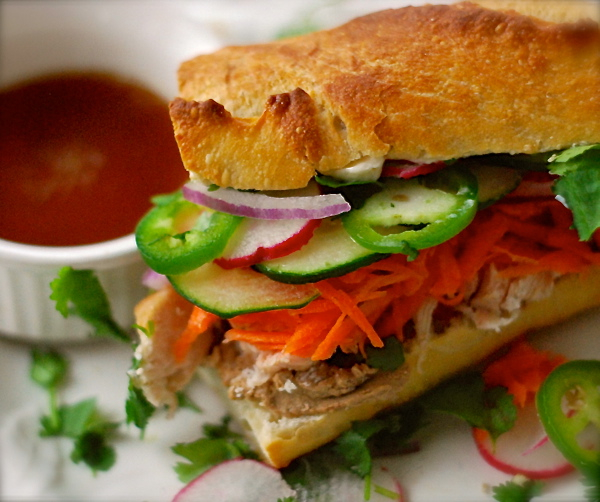 Banh Mi sandwiches are one of my absolute favorite things to eat. I've developed a recipe for the Crock Pot that I think Banh Mi fans are going to appreciate. It's a simplified version of the traditional Banh Mi, or as we sometimes call them, Saigon Subs.
for the Banh Mi pork sandwich filling:
~ serves 6 to 8 people ~
2 to 3 lb. pork chops (bone-in is fine)
1 cup low sodium chicken broth or stock
1/4 cup ponzu sauce OR low sodium soy sauce
2 Tablespoons fish sauce
1 Tablespoon freshly grated ginger
3 large garlic cloves, minced
Place meat in bottom of slow cooker. Top with broth, ponzu, fish sauce, ginger and garlic. Cover slow cooker and cook on "Low" setting for 6 hours.
While the meat is cooking, you'll want to prepare your other ingredients for easy sandwich assembly.
for the pickled carrots:
2 to 3 cups shredded or julienned carrots
1/2 cup rice wine vinegar
Place carrots in a small container and top with vinegar. Toss and chill in refrigerator until ready to serve.
other sandwich toppings/accoutrements:
6 inches of crusty baguette per person
homemade or store bought liver pate (optional)
mayonnaise
sambal oelek sauce OR sriracha
cucumber, thinly sliced
purple onion, thinly sliced
radishes, thinly sliced
jalapeno peppers, thinly sliced
fresh cilantro, chopped
nuac cham OR fish sauce for dipping
Once meat is done cooking, remove any bones. Shred meat in the sauce that it cooked in. Split baguette(s) lengthwise. Spread a little pate and/or mayonnaise on bottom of baguette, followed by some of the hot sauce of your choosing. Then, pile on some of the shredded meat, pickled carrots, cucumber, onion, radish, jalapeno and cilantro. Spread the inside top of the baguette with more mayo, if you wish. Top sandwich, serve with nuac cham or fish sauce for dipping, and enjoy!
~Melissa
You may enjoy these related posts: