Print Friendly Version
"She gazed at the sea, trying to decide how, if she were Papa, she would endeavour to paint it. For, although it was blue, it was a blue made up of a thousand different hues. Over sand, shallow and translucent, it was jade green, streaked with aquamarine. Over rocks and seaweed, it darkened to indigo. Far out, where a small fishing boat bucketed it's way across the waves, it became a deep Prussian blue. There was little wind, but the ocean lived and breathed; swelled in from different depths, formed waves. The sunlight shining through these as they curved to break, transformed them to moving sculptures of green glass. And, finally, all was drowned in light, that unique suffused brilliance that had first brought the painters to Cornwall, and had driven theFrench Impressionists into a passion of creativity." ~Rosamunde Pilcher The Shell Seekers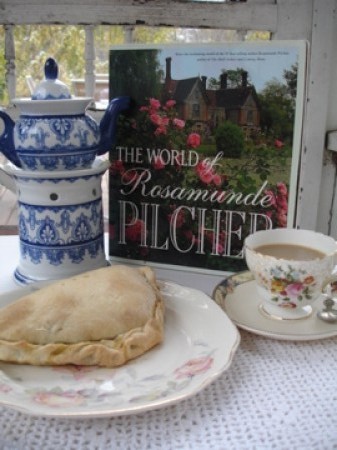 Have you ever been reading a book when the author breaks away from the story just to describe a special recipe or dish? This has happened to me countless times, and when it does I have to put down the book  and look the recipe up online…another reason to love the internet.
I came across a description for savory meat pies, called Cornish pasties, while reading the book The Shell Seekers on my honeymoon 15 years ago. I made a little note to myself to try a recipe for these little pies, and while rereading the book last week, I came across the note again. This time I looked up the recipe and made them. After experimenting with a few versions of this recipe, I believe I have one worth sharing.
~Cornish Pasties~
For the butter pastry crust:
4 and 1/2 cups all purpose flour
1 cup real butter (no substitutes)
1 teaspoon salt
1 and 1/4 cups ice water
For the savory meat filling:
4 and 1/2 cups thinly sliced potatoes
1/2 cup chopped parsnips
1/2 cup chopped celery
1/2 cup chopped rutabega
2 carrots, chopped
1 onion chopped
1/2 cup fresh parsley, chopped fine
1/2 teaspoon nutmeg
1/2 teaspoon paprika
1/2 teaspoon thyme
1/4 teaspoon sage
2 lb. chuck arm roast, cubed small or 2 lb. lean ground beef
1 can cream of mushroom soup (I use Amy's organic)
2 cans beef broth
splash of red wine
1 Tablespoon salt
Whisk flour and salt in a large bowl. Cut in shortening. Quickly stir in water. Form into a ball, wrap in waxed paper and chill in refrigerator while you assemble the filling. Chop veggies so they are of uniform sized pieces (I chop them pretty small.) Brown them in a little olive oil in a skillet until tender (do this in batches as to not overcrowd the pan.) In a separate skillet, brown the meat (if using arm roast, cut into small cubes and dredge in flour before browning.) Mix the veggies and meat in a large bowl, and add the soup, broth, wine and seasonings.  Divide the chilled dough into 8 equal pieces. Roll out each piece into a 6 inch circle. Place 1 to 1 and 1/2 cups filling in each circle. Carefully fold over and seal the edges firmly to form pies in the shape of half moons. Poke  each pie once with the tines of a fork. Bake on an ungreased cookie sheet at 425 degrees F. for 30-40 minutes, or until just golden. Be careful not to burn.
Enjoy!
~Melissa
You may enjoy these related posts: