Print Friendly Version
Vaffelhjerter are Scandinavian heart shaped waffles made with a special waffle iron. I made these for Jeff on the morning of his birthday and served them with real Scandinavian lingonberry preserves and a side of turkey bacon. They turned out so delicious! I purchased the lingonberry preserves at Ingebretsen's in Stockholm Wisconsin…the pretty little waffle iron can be purchased there too!
Norwegians eat vafler for dessert. These waffles are thinner, smaller, and sweeter than American or Belgian waffles. Although served anytime, they are often served as kveldsmat (the light evening meal.)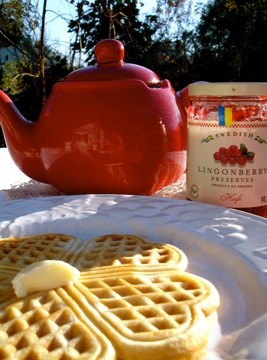 ~Vaffelhjerter~
3 eggs
1 stick melted butter
1 cup milk
2 teaspoons vanilla
2 cups flour
1/2 cup sugar
1 Tablespoon baking powder
1/2 teaspoon salt
Combine and sift flour, sugar, baking powder and salt. Set aside. Beat eggs in bowl until frothy. Beat milk, butter and vanilla into eggs. Add dry ingredients. Mix well. Bake in Vaffelhjerter iron and serve with jam, whipped cream, fresh fruit, cheese, and tea.
Enjoy!
~Melissa
You may enjoy these related posts: