Print Friendly Version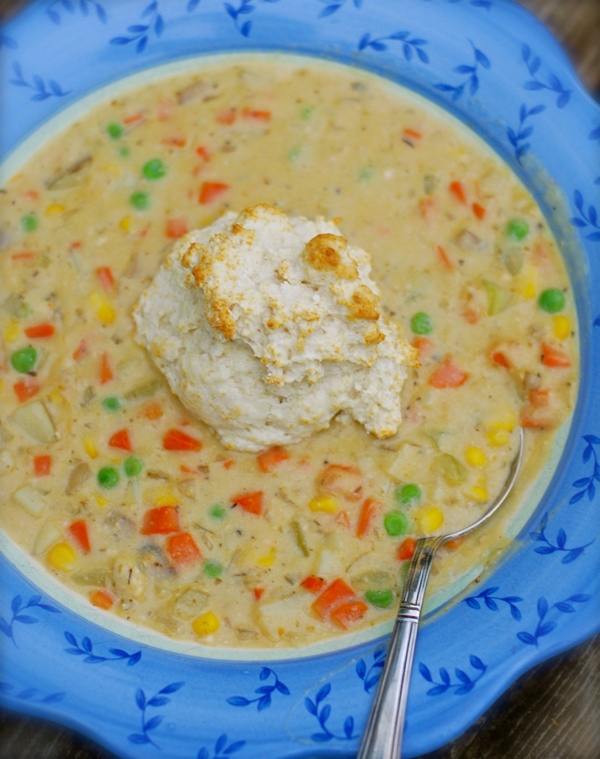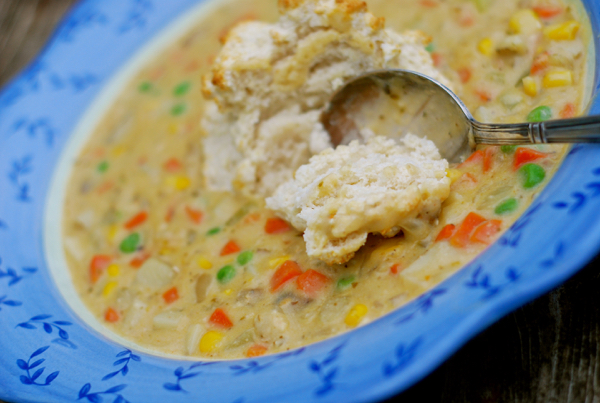 I was craving pot pie yesterday. That creamy, gravy-like filling in a buttery crust. Yum! But how to recreate it now that I'm vegan? I had to get to work in the kitchen. Time to develop a recipe to satisfy the craving. I also wanted to make something easy enough to pass as a weeknight meal, and a recipe that is big enough to feed us all more than once. So instead of an actual pot pie, I made soup!
I don't really like making pie crusts, and I didn't have a pre-made one on hand, so I opted for biscuits instead. Bisquick is vegan (yay!) So that took care of the "crust" part. I just made a batch of the biscuits using the recipe on the box and subbed unsweetened, plain almond milk for dairy milk.
OH MY YUM! I got this delicious soup right on the first try! Are you ready for this?
8 Tablespoons vegan butter, divided
1 large onion, chopped
2 stalks celery, chopped
3 large carrots, chopped into small cubes
1 cup small-diced, unpeeled potatoes
2 Tablespoons dried oregano
1 teaspoon garlic powder
1 teaspoon onion powder
1 teaspoon Lawry's seasoning salt
1/4 cup all purpose flour
4 cups vegetable stock or broth
2 cups plain, unsweetened almond milk or soy milk
1/2 cup vegan cream cheese (or homemade cashew cream cheese)
1 cup frozen corn, thawed
1 cup frozen peas, thawed
2 Tablespoons cornstarch + 2 Tablespoons cold water (optional)
1 batch Bisquick biscuits made using almond or soy milk
Heat 4 Tablespoons of the vegan butter in a heavy soup pot. Once hot, add the onions, celery, carrots, potatoes, oregano, garlic powder, onion powder, and seasoned salt. Saute until tender over medium heat for approximately 15 minutes.
While the veggies are cooking, make a roux using the remaining 4 Tablespoons of butter and the flour. Heat the butter in a small saucepan over medium heat, and once it's melted and bubbling, whisk in the flour. Whisk constantly for about 2 minutes, adding a little of the vegetable stock as you go to create a thick gravy.
Once the veggies are done cooking, add the remaining stock. Once stock is hot, whisk in the roux and the milk. Stir until thickened. Stir in the corn and peas and cook until soup is hot all the way through. Stir in the cream cheese. If the soup still doesn't seem thick enough for you, whisk the cornstarch and water in a small bowl and stir it into the hot soup. I like my soup really thick, almost like gravy, so I use the cornstarch. Salt and pepper the soup to your liking and adjust the other seasonings, if necessary.
Ladle the hot soup into bowls and top each one with a biscuit. Garnish with a little chopped, fresh parsley if you're feeling fancy.
Enjoy!
~Melissa
You may enjoy these related posts: