Print Friendly Version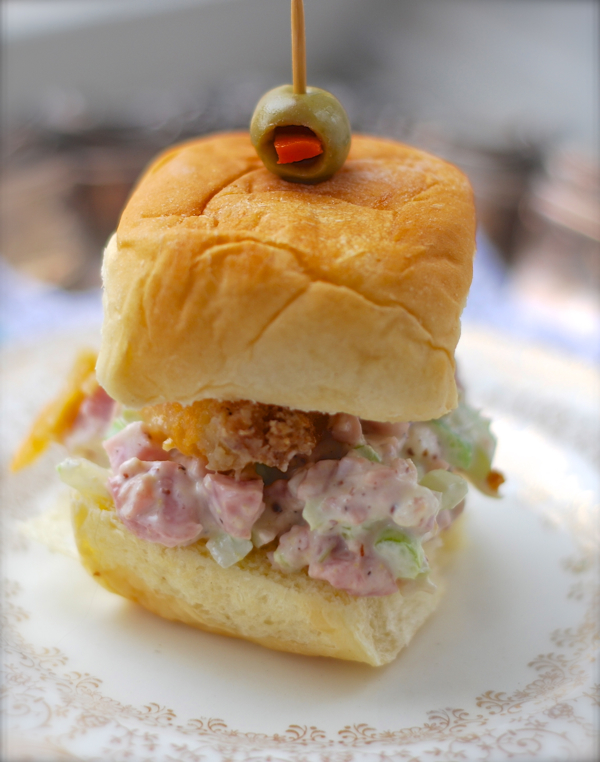 What a wonderful weekend we enjoyed. Lots of great company, good food, and sunshine. I hope you all enjoyed your time with family and friends!
Jeff bought a huge ham, so we have quite a bit of leftovers. I put some aside in freezer bags for our favorite Ham & Cheese Casserole, some for Monte Cristos, some for brekky Bennys, some for Crunchy Ham Wraps, a big soup bone for split pea soup or navy bean soup, and I made a batch of this ham salad for our lunch yesterday. You could serve this salad with crackers as an appetizer, forego the bread and just serve scoops of it over little beds of lettuce for a low-carb lunch, make wrap sandwiches with it by adding some grated cheddar cheese and lettuce leaves…or…you could make these awesome Hawaiian Ham Sliders. We really like these because we usually have everything we need for them the day after Easter. What is your favorite way to use up that leftover ham?
for 6 sliders:
(serves 3 people…2 sliders per person)
6 sweet Hawaiian rolls, split
1 cup cooked ham, chilled and chopped
1/4 cup real mayonnaise
3 Tablespoons finely chopped sweet bell pepper or celery
2 Tablespoons finely chopped onion
2 teaspoons grainy brown mustard or Dijon mustard
1 teaspoon sugar
freshly ground black pepper, to taste
6 Tablespoons Pineapple crisp, chilled
green olives or Maraschino cherries for garnish
Split rolls and set on plates. In a small bowl, combine ham, mayo, bell pepper/celery, onion, mustard, sugar and ground black pepper until all ingredients are evenly incorporated. Divide ham salad evenly among the 6 rolls. On each of the buns that are now topped with ham salad, place a Tablespoon of the cold pineapple crisp. Place tops on sandwiches and garnish each sandwich with an olive or cherry on a toothpick.
Enjoy!
~Melissa
You may enjoy these related posts: