Print Friendly Version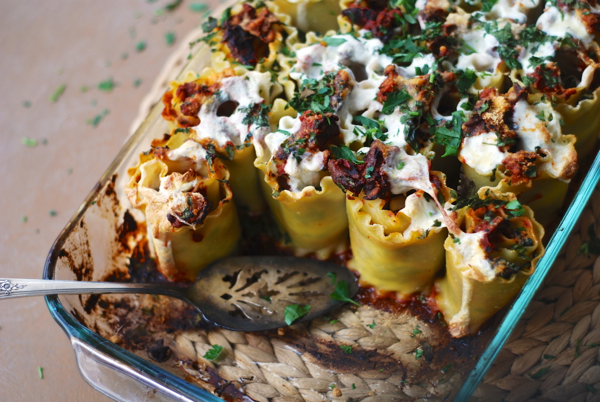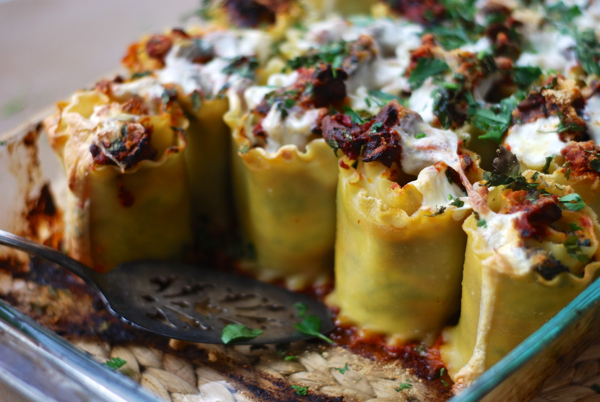 I think this is a pretty twist on the classic, traditional layered lasagna. I love how the roll-ups look like ruffled little swirls when stood on end.  You can prepare these with regular or whole wheat lasagna noodles, with or without meat, and with light or regular mozzarella. The possibilities are endless, but you can use this as a basic guide and tweak the recipe to suit your tastes.
1 lb. lasagna noodles
1 Tablespoon olive oil
8 oz. portobello mushrooms, washed, blotted and chopped
1/2 small onion, chopped fine
2 large cloves fresh garlic, minced
1/4 cup red wine
1/2 lb. lean ground beef, browned (or lean Italian sausage)
1 Tablespoon fennel seeds (optional)
1 teaspoon salt
1 teaspoon freshly ground pepper
5 cups marinara sauce
15 oz. ricotta cheese
10 oz. spinach, wilted and squeezed dry
1 large egg, lightly beaten
1/4 teaspoon nutmeg
1/3 cup freshly grated Parmesan cheese
1 to 2 cups grated Mozzarella (or cut into little cubes if using fresh)
3 Tablespoons fresh chopped parsley for garnish
red pepper flakes for garnish (optional)
Preheat oven to 375 degrees F. Cook noodles according to package directions. Drain well and spread them out on lightly oiled aluminum foil so they don't stick together.
Heat oil in a large skillet over medium-high heat. Add the mushrooms, onion and garlic. Cook until the mushrooms have released their moisture. Add the wine and cook until thickened and a bit sticky. Remove to a large mixing bowl. Deglaze the skillet with a splash more of red wine. Add the beef/sausage and the fennel seeds. Cook until browned. Break into little chunks and add to the mushroom mixture, along with the salt, pepper and marinara sauce.
In a separate, medium bowl,  combine the ricotta, spinach, egg and nutmeg.
Spread 1 cup of the marinara mixture in the bottom of a oiled, 9 x 13 glass cake pan. Spread about 2 Tablespoons of the ricotta mixture onto each lasagna noodle. Top with about 2 Tablespoons of the marinara mixture. Roll up the noodles and stand them on end, side by side in the baking dish. Once this is done, spoon the remaining marinara mixture over the top of the roll-ups. Top evenly with the Parmesan and Mozzarella. Sprinkle the parsley and red pepper flakes over the top. Cover loosely with foil and bake for 45 minutes. Uncover and bake an additional 10 to 15 minutes.
Enjoy!
~Melissa
You may enjoy these related posts: