Print Friendly Version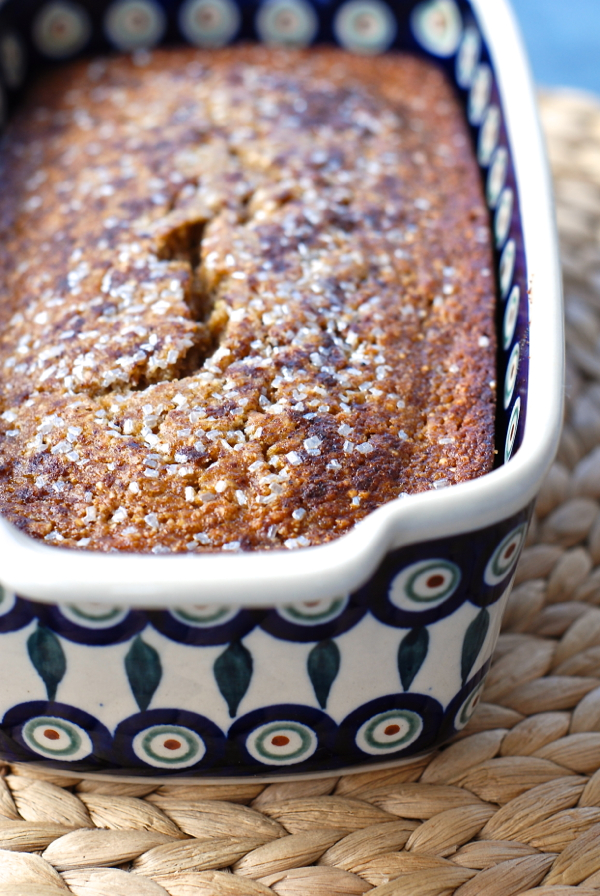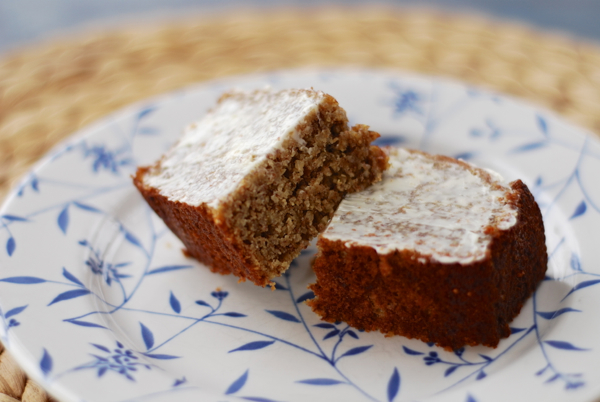 Hello, Lovelies! I'm taking a little break from my regular schedule and headed out to do some antiquing today…stopping by the market on the way home to get fresh salad ingredients and meat for grilling. What are you all up to today?
Here's a yummy, healthy banana bread recipe that I really enjoy. Jeff and Gracie like it too. Other than the sugar, there's not much that could really be considered "bad for you" in this bread. Full of fiber, no white flour, and very low in fat! Enjoy as brekky, an afternoon snack, or a teatime treat.  The quinoa and whole wheat flour lend an interesting, slightly nutty, earthy flavor to this banana bread, and make it very moist.
1 cup brown sugar
1/4 cup white sugar
1/4 cup butter, melted
3 large ripe bananas, mashed well
1/4 cup applesauce
2 large eggs
1/2 cup buttermilk
1 teaspoon maple extract
1 teaspoon cinnamon
1 cup quinoa flour
1 cup whole wheat flour
1 teaspoon baking soda
1 teaspoon salt
1 cup chopped pecans (optional)
decorative sugar and a little nutmeg for sprinkling
Combine sugars, butter, bananas, applesauce, eggs, buttermilk, and maple extract in a large mixing bowl. In a separate mixing bowl, combine cinnamon, flours, baking soda, salt and nuts. Mix wet and dry together until just combined. Pour into two small loaf pans or one large (9 x 5 x 3) loaf pan. Sprinkle with the decorative sugar and nutmeg. Bake at 350 degrees F. for about an hour, or until loaf is set and a toothpick inserted in center only comes out with a few crumbs on it. Allow to cool in pan for 5 to 10 minutes before loosening the sides with a butter knife and gently inverting the loaf (loaves) over a cooling rack. Allow to cool before slicing. Keeps for 3 days, covered, at room temperature, or in the fridge for up to 10 days.
Enjoy!
~Melissa
You may enjoy these related posts: