Print Friendly Version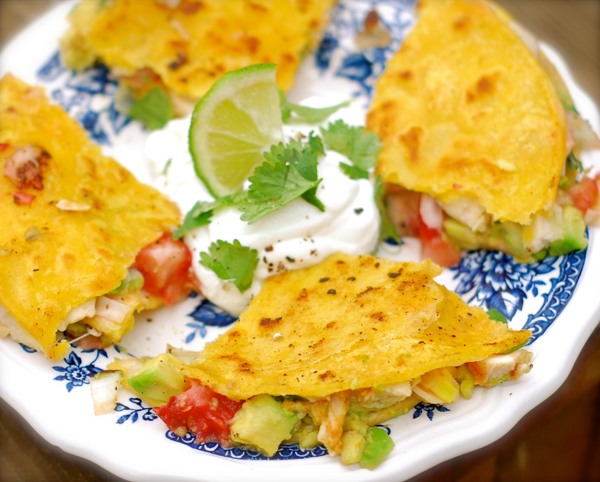 This is what me and my hubby had for lunch today. So delicious and refreshing, and a fun, unique way to use those pretty, fragrant strawberries!
serves 2
2 Tablespoons olive oil, divided
4 soft, taco size corn tortillas or flour tortillas
1 cup shredded mozzarella cheese
2/3 cup to 1 cup chopped, cooked chicken breast, heated
5 large, sweet, strawberries, washed and diced
1 perfectly ripe avocado, diced
1 fresh jalapeno pepper, chopped fine
2 to 3 Tablespoons finely chopped onion
3 Tablespoons chopped, fresh cilantro
juice of 1/2 lime
lime wedges and greek yogurt for garnish
Mix strawberries, avocado, jalapeno, onion, cilantro, and lime juice in a bowl and mix to evenly incorporate ingredients.
Heat 1/2 Tablespoon olive oil in a heavy skillet over medium-high heat. Once hot, place a corn tortilla in the skillet. Top with 1/4 cup shredded mozzarella, 1/3 to 1/2 cup cooked, heated chicken, half of the strawberry mixture, and another 1/4 cup mozzarella. Top with another corn tortilla, and rub top tortilla with 1/2 Tablespoon of olive oil. Cook until bottom tortilla is golden and crispy and the cheese on the bottom is melted. Carefully flip. The quesadilla will be pretty full and some of the ingredients may spill out, but don't worry about it. Cook until crispy and cheese is melted.
Repeat with the other half of the ingredients for the second quesadilla.
Serve with plain greek yogurt for dipping and lime wedges for squeezing over. Drizzle a little hot sauce over the top, if you wish.
Enjoy!
~Melissa
You may enjoy these related posts: