Print Friendly Version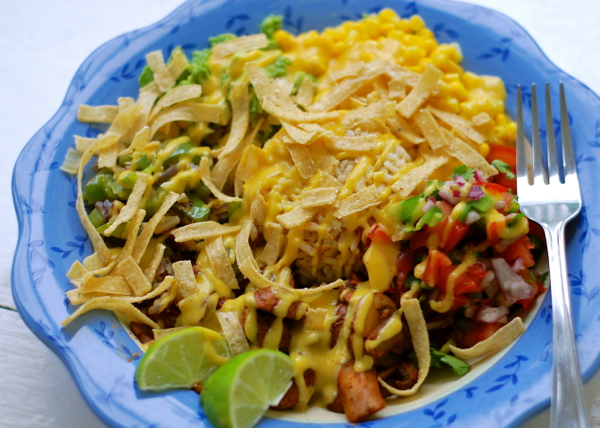 Mmmmmm! Who doesn't love a hearty, healthy, flavorful fajita bowl for lunch or dinner? It's one of my "go-to" dinners during the week because I can prep everything in advance and people can serve themselves. It's so good and I never get tired of it. With all of the delicious, fresh veggies and whole grains to choose from you can change it up pretty easily and get a totally different flavor every time you make it. Feel free to use your favorite nacho sauce or crema on your fajita bowls. I made mine vegan, but you certainly don't have to. Add your favorite protein to this to fit your lifestyle, diet, and preferences.
prep ahead: vegan nacho "cheese" sauce:
1 (12 oz.) russet potato, peeled and cut into 1 inch cubes
1 small carrot (about 1/3 cup) peeled and sliced
1/3 cup vegetable stock
3 Tablespoons light olive oil, divided
1/4 cup nutritional yeast
1 and 1/2 teaspoons apple cider vinegar
1 teaspoon sea salt
1/3 cup finely chopped onion
1 large jalapeno, seeded and finely chopped
1 large garlic clove, minced
1/4 teaspoon chipotle powder
1/4 teaspoon mild chili powder
1/4 teaspoon cumin
Place cubed potatoes and sliced carrots in a medium saucepan of boiling water. Boil until tender and easily pierced with a fork. Drain well and place in the bowl of a blender along with the stock, 2 Tablespoons of the oil, yeast, vinegar, and salt. Pulse until combined. Scrape down inside of blender. Process on high until very smooth. Transfer to a bowl with a lid. Set aside.
In the remaining 1 Tablespoon of oil, saute the onion and jalapeno until tender. Add the minced garlic, and saute and additional minute. Remove from heat. Allow to cool a bit before adding to the nacho cheese sauce. Stir well. Add chipotle powder, chili powder, and cumin. Stir well.
assemble the fajita bowls:
In each bowl, place a scoop of your chosen whole grain (this time we used brown rice.) Place scoops of any or all of the following around the rice: sauteed bell peppers, sauteed onions, sauteed mushrooms seasoned with chipotle and cumin, steamed corn, guacamole, homemade pico or salsa, and your chosen protein (we used warmed, black chili beans.)
Drizzle some of the warm nacho cheese sauce over the top, followed by a sprinkling of fresh cilantro. and for the signature crunch, top it all off with a handful of crunchy tortilla strips. YUMMY!
Enjoy!
~Melissa
You may enjoy these related posts: