Print Friendly Version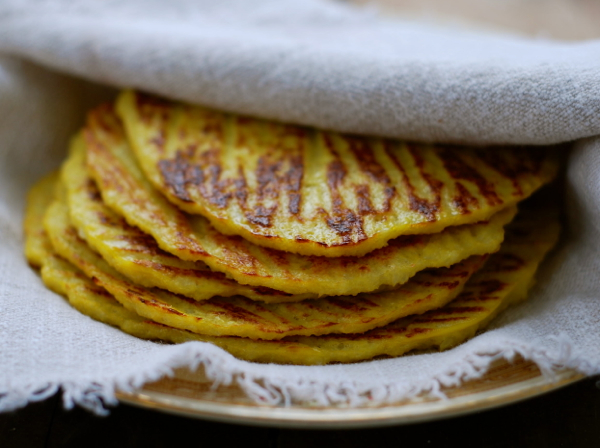 You aren't going to believe how easy and wonderful these Paleo tortillas are! They definitely don't taste like traditional, corn tortillas, but they're delicious and have a unique, mild flavor that's all their own. They're soft and yet strong enough to hold a bunch of your favorite taco/fajita fillings. We just love them. Paleo people, rejoice! You can have tacos again! Oh, and they're full of protein and a bit more filling than traditional tortillas. I usually eat 3 tacos at a sitting, but with these I'm full after 2.
~ preheat oven to 375 degrees F. ~
makes 6 to 7 taco-sized tortillas
1 head cauliflower, leaves and stem removed
4 large eggs, lightly beaten
1/2 teaspoon sea salt
coconut oil for frying
Cut cauliflower into uniform chunks and place 1/3 of the chunks in the bowl of a large food processor. Pulse until cauliflower looks like rice. Remove to a large, microwave safe bowl. Repeat with the rest of the cauliflower. Microwave cauliflower "rice" for 4 minutes. Stir and place in a large mixing bowl that's lined with a triple layer of cheesecloth or a large, clean flour sack towel. Allow cauliflower to cool a bit. Gather cheesecloth/towel at top and twist. Squeeze out as much excess liquid as you possibly can, the dryer the cauliflower, the better.
Discard the excess liquid. Place cauliflower in bowl and add the eggs and salt. Mix well.
Line a large baking sheet with cooking parchment. Spoon out some of the cauliflower/egg mixture onto the parchment and form the tortillas using the back of the spoon. I made my tortillas the same size as traditional taco-sized tortillas (approximately 5 inches across.) Make them as thin and even as you can but not so thin that there are holes in the tortillas. You'll have to make these in batches, I could only fit 3 tortillas on the baking sheet at one time.
Place baking sheet in preheated oven and cook tortillas for 10 minutes. Using a spatula, gently flip tortillas and bake and additional 4 to 5 minutes. Repeat with the rest of the tortillas.
Heat a teaspoon of coconut oil in a skillet over medium-low heat. Once skillet is hot, place one of the baked tortillas on skillet, moving it around so it gets lightly coated with the oil. Cook just until lightly browned. Flip and repeat on the other side. Transfer to a tortilla warmer dish with a lid or wrap in a clean flour sack towel to keep them warm as you work. Repeat until all tortillas are browned. These are best when very fresh, but they will keep in a Ziploc bag in your refrigerator for a day or two. Just warm them up for a few seconds in the microwave before serving.
Enjoy!
~Melissa
You may enjoy these related posts: