Print Friendly Version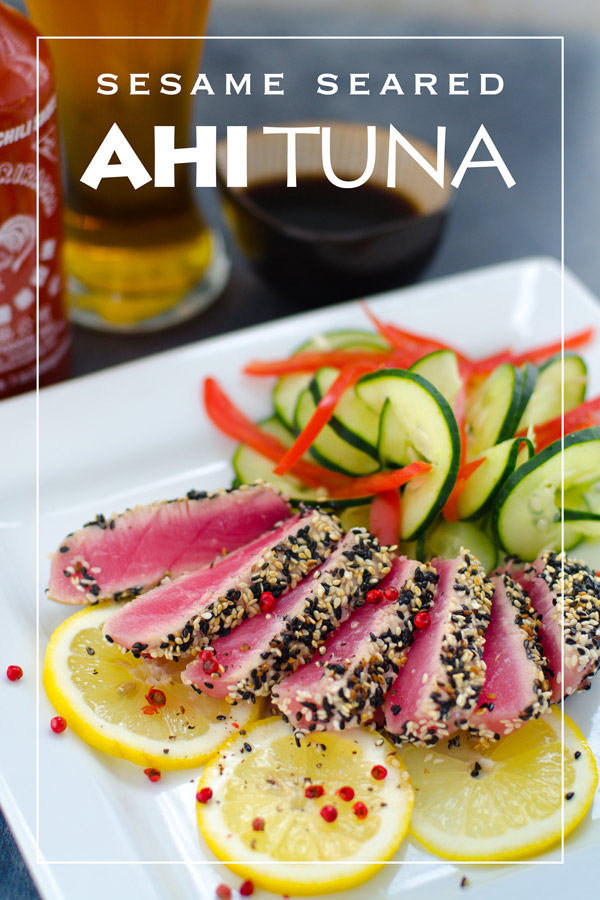 We're still having fun celebrating our 19th Wedding anniversary! I woke up to a huge bouquet of fresh pink and purple Alstroemaria flowers, French press coffee, and our favorite bagels and lox breakfast.
We want to cook something slightly fancy, delicious and healthy for dinner tonight and we're thinking this sesame-seared ahi tuna with sushi accoutrements will be just the thing. Paired with sake or sauvignon blanc… Mmmmmm!
4 fresh, organic ahi tuna steaks (6 oz. each/ 1 inch thick)
1/4 cup black sesame seeds
1/4 cup white sesame seeds
sea salt and freshly ground black pepper
3 Tablespoons grapeseed oil
In a wide, shallow bowl, mix the black and white sesame seeds. Season the tuna with some salt and pepper. Dredge tuna steaks in the sesame seeds, coating them as evenly as possible.
In a heavy skillet, over high heat, warm the oil just until smoking. Place tuna steaks, 2 at a time as to not crowd the pan, in the hot oil and cook until the white sesame seeds are a light, golden brown (approximately 1 minute,) flipping only once.
Transfer steaks to cutting board and slice each into 1/4 inch slices. Arrange on 4 individual serving plates and serve immediately with any or all of the following garnishes.
fresh lemon slices
sliced cucumber
carrot ribbons
wasabi sauce
ponzu sauce
pickled ginger
Sriracha hot sauce
pink peppercorns
Enjoy!
~Melissa
You may enjoy these related posts: