Print Friendly Version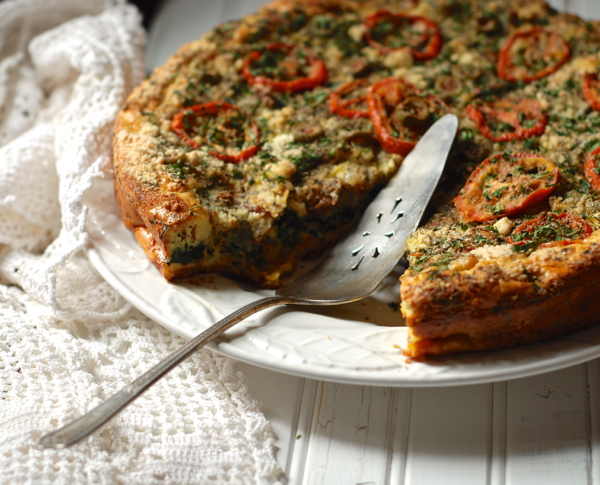 Another snow day here in Minnesota…Gracie and I just watched a movie and I've been cooking and illustrating and listening to my favorite radio shows. It must have snowed all night because we woke up to at least a foot more of the white stuff. And it just keeps coming down… We might bundle up and head out to the back yard in a bit to make some Snow Ice Cream. Have you ever made it? such a fun snow day tradition.
I developed a new quiche that I think you'll like. It's Italian, and bacony, and loaded with veggies. Completely wonderful, and perfect for "Cottage Tea".
preheat oven to 350 degrees F.
2 cups shredded cheddar cheese
1 cup shredded Mozzarella cheese
1/2 lb. pancetta, fried until crispy
10 oz. fresh spinach, wilted and squeezed dry
1 Tablespoon olive oil
1/2 onion, chopped fine
1/2 green pepper, medium chop
3 Roma tomatoes, divided (one chopped, 2 sliced thin)
2 large cloves garlic, minced
handful of pitted green olives, sliced
6 eggs
3 egg whites
3/4 cup Bisquick
1 cup heavy whipping cream
2 Tablespoons pizza seasoning, divided
dash cayenne pepper
1/2 cup grated Parmesan or Asiago cheese
Line a quiche pan with cooking parchment, and spray with cooking spray, or use a Demarle/Silpat mold (no preparation necessary.) Place the shredded cheddar and Mozzarella in an even layer in the bottom of the quiche pan. Top with the crispy, fried pancetta and then the wilted, squeezed spinach (that has been cooked in the Tablespoon of olive oil until wilted).  Saute the onion, green pepper, and the chopped Roma tomato in 2 Tablespoons of the pancetta drippings until tender and translucent. Add the garlic and cook for one minute more. Place this veggie mixture in an even layer on top ot the spinach. Scatter a handful of sliced green olives on top of that.
In a large mixing bowl, Combine the eggs, egg whites, Bisquick, cream, pizza seasoning and cayenne until everything is mixed well and frothy. Pour evenly over the ingredients in the quiche pan. Sprinkle the shredded Parm/Asiago over everything. Decorate the top of the quiche with the Roma tomato slices and slices of green olive, if you wish.
Place quiche on a large baking sheet. Bake for about 45 minutes, or just until it's set and golden brown.
Enjoy!
~Melissa
You may enjoy these related posts: