Print Friendly Version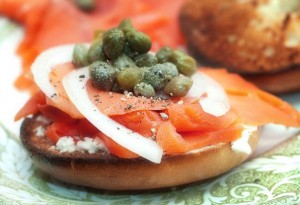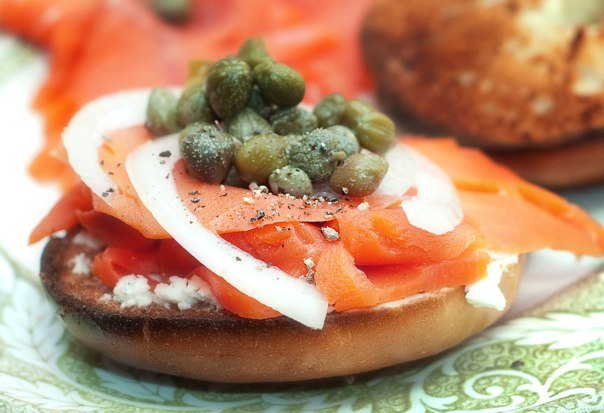 "The divine took his seat at the breakfast table, and began to compose his spirits by the gentle sedative of a large cup of tea, the demulcent of a well buttered muffin, and the tonic of a small lobster."  ~Thomas Love Peacock
I thought I'd share one of our favorite weekend breakfast recipes with you. This is so easy and wonderful with a cup of French roast coffee. You could even make this before your hubby or wife (or significant other) wakes up and surprise them with the Saturday morning crossword puzzle and breakfast in bed.
You'll need:
good quality bagels (Bruegger's, Panera, Big Apple or Lender's) halved
real cream cheese
ready to eat, boned, smoked salmon nova lox
capers
thinly sliced purple or red onion
freshly ground black pepper
To assemble:
Toast the bagel halves if you like. Spread with a generous amount of cream cheese. Top with desired amount of lox, a few capers and a sliver or two of the onion. Grind a little fresh pepper over the top and enjoy with a cup of dark roast coffee. MMMMMM…..
Happy Weekend,
Love,
Melissa
You may enjoy these related posts: