Print Friendly Version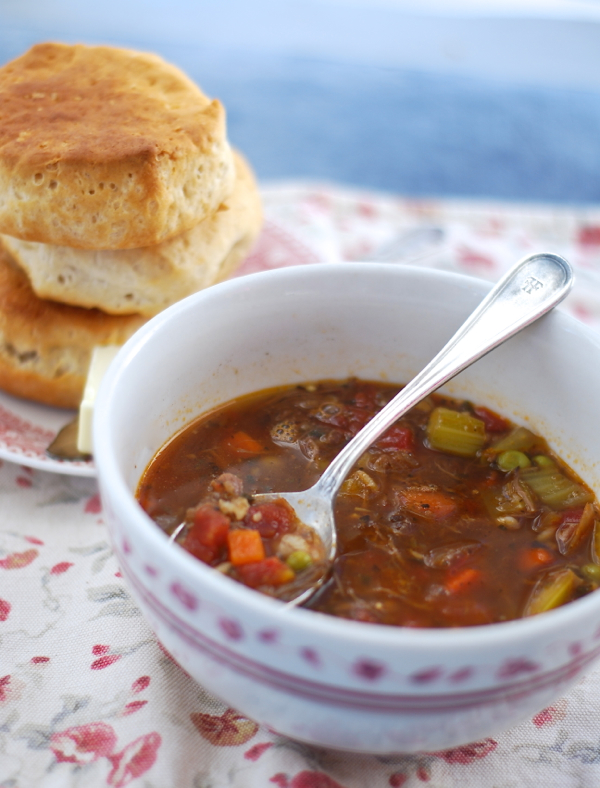 This soup is soooo yummy and the perfect, hearty dish for a soup supper fireside. If you want the easy way to make it…not exactly a short cut per se… because it's actually easier even though it takes longer (does that make sense? hee hee)… Make THIS recipe for French Dip sandwiches first. Then, the next day, take the leftovers (approximately 3 cups of shredded beef, and 4 to 5 cups of the au jus) and that's your soup starter.
Otherwise…if you're not really in the mood for the French Dippers and you'd just like to move on to the soup…
In a heavy soup pot or Dutch oven, combine:
3 pieces of bacon, cooked crispy plus 3 Tablespoons of the drippings
3 cups shredded, cooked beef or 3 cups beef stewing meat, browned
5 cups au jus (or consumme or beef broth/stock)
1 large onion, sliced and sauteed until tender
1/4 cup finely chopped celery
28 oz. can petite diced tomatoes including the juice
1 cup frozen peas & carrots
1 large garlic clove, minced
1/2 cup quick-cooking barley
1 Tablespoon dry parsely or 1/4 cup chopped, fresh parsley
1 Tablespoon Sriracha hot sauce
1 Tablespoon dry Italian or Pizza seasoning
sea salt to taste
freshly ground black pepper
Mix all of the above in the soup pot and bring to a boil. Reduce heat and simmer gently for about 30 minutes or until celery is tender and beef (if using browned stewing meat) is completely cooked and hot. Adjust seasonings to taste. Serve with boarding house biscuits. I love Art Smith's recipe which you can find HERE.
Enjoy!
~Melissa
You may enjoy these related posts: