Print Friendly Version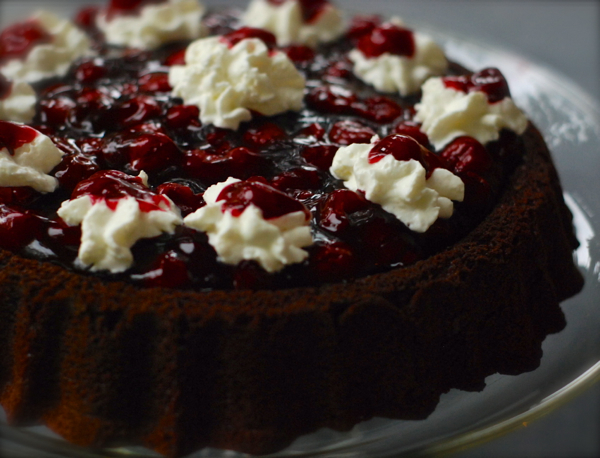 Happy Friday, Lovelies. I've been going through my dishes and getting a couple boxes together for my daughter Andie who is moving soon. I have SO so many dishes from my food photography studio that my cupboards, armoires and hutches are bursting at the seams. Definitely  time to go through and get rid of the pieces I don't need any more. It turned out to be a much bigger task than I had originally planned for. It seems like all projects turn out that way for me.
Here's the yummy and super easy cake I made for my grandma's birthday yesterday. If you don't like using cake mixes you could certainly substitute your favorite scratch recipe for a two layer chocolate cake. This particular recipe makes one "Tiara" cake and 6 big cupcakes.
1 boxed chocolate cake mix, prepared according to package directions
1 can cherry pie filling
1/2 teaspoon pure almond extract (don't use imitation)
whipped cream
Prepare cake mix according to package directions.
Spray "Tiara" cake pan with Pam or Baker's Joy.
Fill Tiara pan 2/3 full. Line a 6 cupcake tin with cupcake liners and distribute the rest of the cake batter between these 6 tins.
Bake the tiara cake for 30 minutes or until cake springs back when touched in the center. Bake the cupcakes according to package directions for cupcakes.
Allow tiara cake to cool in pan for 10 minutes. Invert onto a cake plate and allow cake to cool completely.
Combine the cherry pie filling with the almond extract.
Once Tiara cake is cooled completely, fill with the cherry pie filling mixture. Top with whipped cream. Cut and serve immediately.
Enjoy!
~Melissa
You may enjoy these related posts: