Print Friendly Version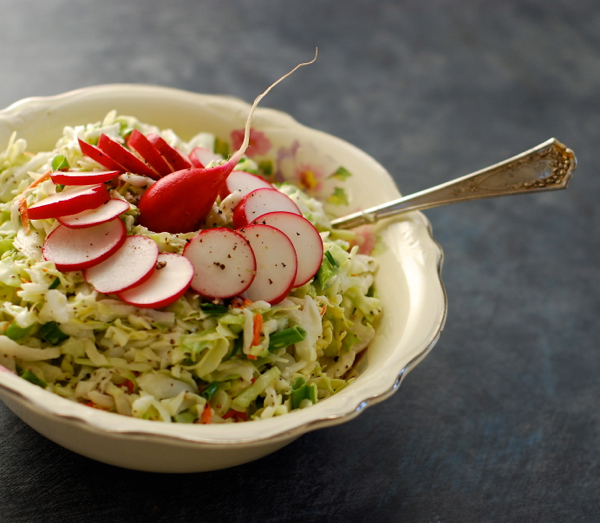 Rain is falling outside my studio window and I can hear church bells in the distance and cars driving by on wet streets. It's dark and grey out there and I've been happily listening to the radio and cooking the day away.
My grandparents visited today and we celebrated my grandma Darling's birthday. Jeff grilled beer bratwurst, and I made a fried apple-onion saute with fresh thyme and rosemary in a brown sugar apple cider reduction, Bavarian kraut, Polish potato pierogi with sour cream and chives, an easy Black Forest "Tiara" cake, and this….
14 oz. coleslaw mix
8 red radishes, sliced + 1 pretty one for a garnish
4 to 6 green onions, chopped (including the green tops)
1/4 cup sugar
2 Tablespoons white or apple cider vinegar
1 Tablespoon celery seed
2 teaspoons salt
1/2 teaspoon garlic powder
1 teaspoon freshly ground black pepper
1/3 cup real mayonnaise
parsley and/or paprika for garnish (optional)
Combine everything except for some of the radish slices, the whole radish and the optional paprika/parsley. Mix well and garnish with the radish slices, whole radish and paprika/parsley. Refrigerate until ready to serve. Adjust seasonings and ingredients to your liking.
Enjoy!
~Melissa
You may enjoy these related posts: