Print Friendly Version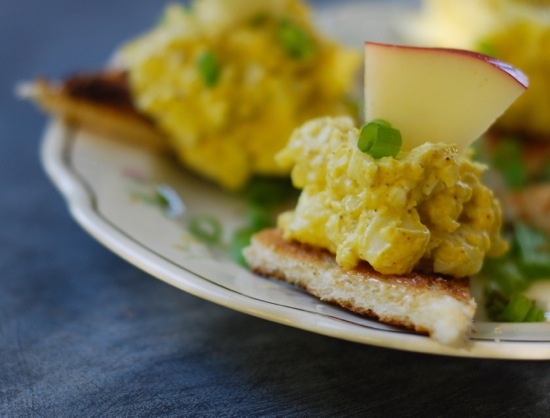 Happy TeaTime Tuesday! I've been so busy, I didn't even get a chance to post anything yesterday. I'll make up for it with a reeeeaaalllly long and fun post I've been working on for tomorrow.
Here's one of my favorite ways to serve egg salad in the autumn and winter…I like Dilly Egg Salad in the spring and summer when I can just go pluck fresh dill from my herb garden. The flavors in this egg salad blend perfectly with buttery, wheat toast points and crisp, tart apple pieces. Enjoy with your favorite spicy black tea.
6 hard boiled eggs, cooled, peeled and coarse chopped
1/3 cup real mayonnaise
1 teaspoon yellow, prepared mustard
1 Tablespoon sugar
1 to 2 Tablespoons sweet curry powder
1/2 teaspoon onion powder
salt & pepper
chopped green onion tops
your favorite orchard apple, unpeeled, thin sliced (we love Zestar)
whole wheat bread toasted, buttered, crusts removed
Combine cooled, chopped eggs, mayonnaise, mustard, sugar, curry, onion powder, salt and pepper in a medium mixing bowl. Adjust seasoning to your liking. Cover and chill until ready to assemble sandwiches.
Toast bread, butter, remove crusts and cut in half so you have two triangle toast points per slice of bread. Top with the curried egg salad, some of the green onion tops, and a little slice of apple on each tea sandwich.
Enjoy!
~Melissa
You may enjoy these related posts: