Print Friendly Version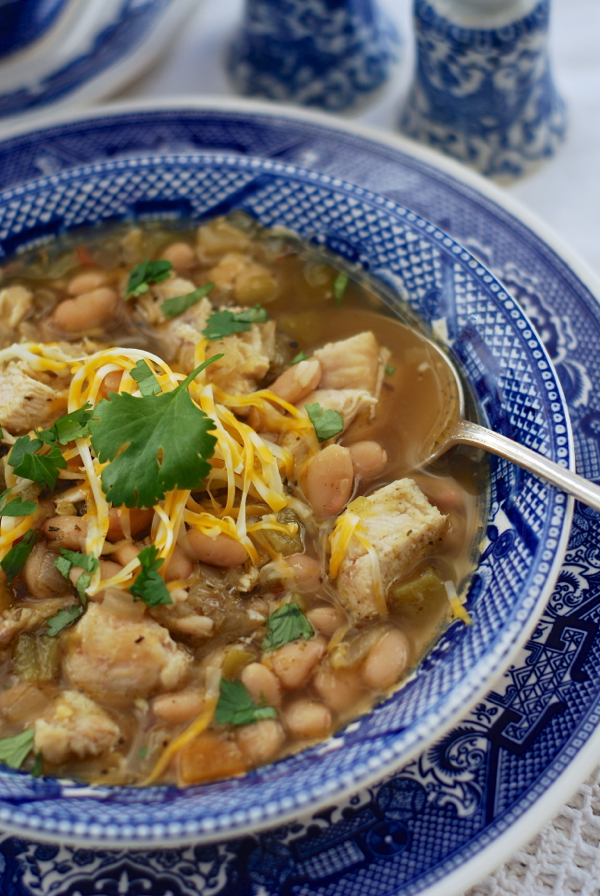 Only two days until Christmas, and we're still busy with last minute preparations. Making treats, marinating chicken for a very special dish, wrapping, and shopping for stocking stuffers.
If you're as busy as I am, you'll appreciate this easy, delicious recipe for white chili. Make a little tossed salad to go with it, throw some cornbread in the oven and you've got a cozy dinner to warm you when you come in from the cold.
2 cups finely chopped onion
4 large cloves garlic, minced
2 Tablespoons olive oil
1 Tablespoon ground cumin
1 and 1/2 teaspoons Italian seasoning
1 teaspoon white pepper or red pepper flakes
1/4 teaspoon allspice
2 dashes ground cloves
3 (15.5 oz) cans cannellini beans or great northern beans, drained and rinsed
2 (4.5 oz) cans diced green chilies
3 cups cooked, cubed chicken (a grocery store rotisserie chicken is great for this)
32 oz. chicken broth or homemade stock
2 cups cheddar jack cheese, grated
cilantro, chopped
In a large, heavy soup pot, saute onion in oil until tender and just starting to brown. Add garlic and cook an additional minute. Stir in cumin, Italian seasoning, pepper, allspice and cloves. Cook two minutes. Add drained, rinsed beans, chilies and chicken broth. Stir well. Bring to boil, reduce heat. Simmer, uncovered, for 5 minutes. Stir in cooked chicken. Cook until heated through. Ladle into bowls, top with shredded cheese and chopped cilantro.
Enjoy!
~Melissa
You may enjoy these related posts: