Print Friendly Version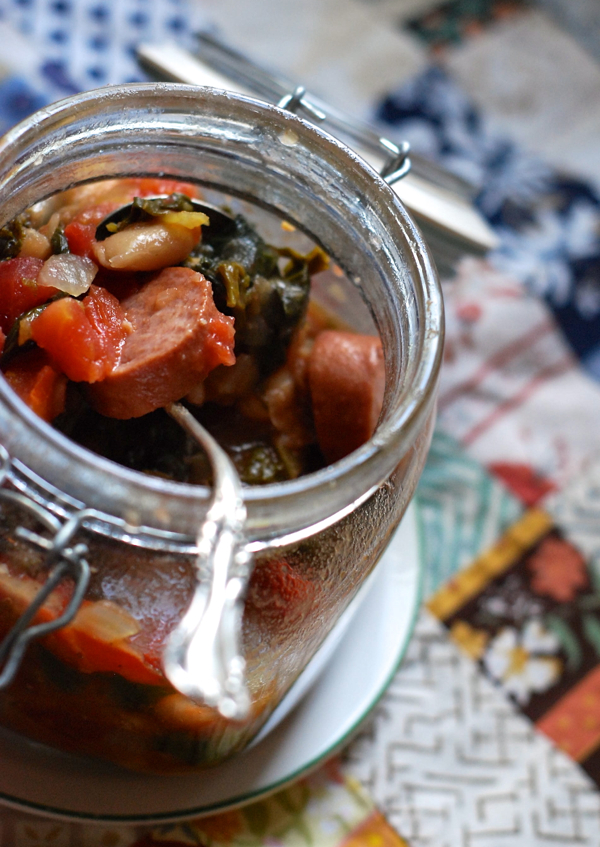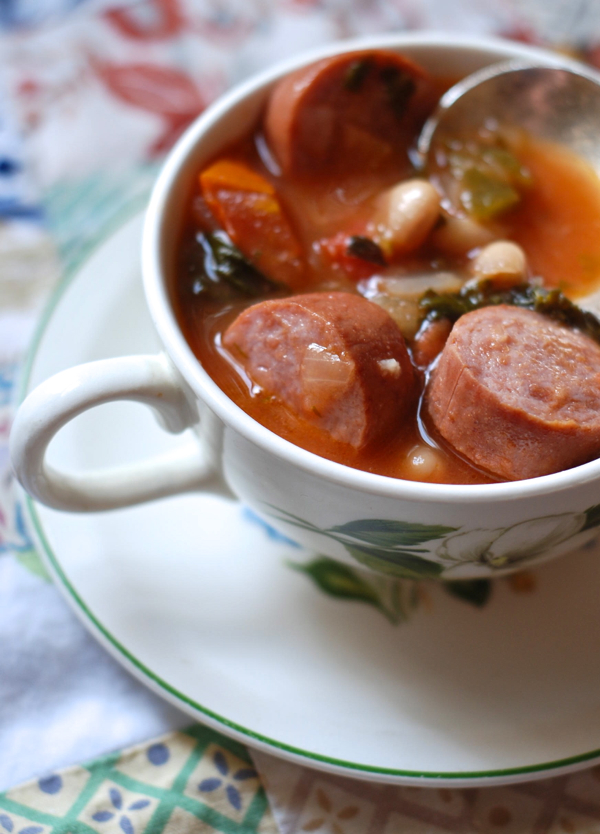 What the what? 51K on facebook? My blog has been filling up with so many comments I sincerely can NOT keep up. I truly never thought that would be a problem for me. Not that what I'm saying isn't terribly interesting (because , come ON, it is) 😉 But I was getting use to one or two comments a day. I may have to hire more admins. Honestly. Thank you all so much for your continued support, and for being such awesome ambassadors of my little corner of the internet. I appreciate each and every one of you.
There are so many exciting things happening here in the studio. A few of you know that I'm writing a novel. It's true. I am excited and terrified whenever I think about sending another manuscript to a house. We'll seeeeeee…… (shivers up my spine!)
Okay, okay…on to the soup recipe. This is delicious, easy and healthy. The perfect winter lunch or first course to a dinner party this time of year.
6 Tablespoons extra virgin olive oil
1 lb. lean, turkey kielbasa, thinly sliced
1 large onion, chopped fine
3 large celery stalks (plus the leafy, green tops) chopped fine
1/2 of a green (or other color) sweet, bell pepper, chopped
3 cloves garlic, minced
12 oz kale/spinach mixture, coarse chopped
1 teaspoon nutmeg
1 teaspoon freshly ground black pepper
1 Tablespoon Sriracha hot sauce
1 cup dry white wine
14.5 oz chicken broth or stock
2 (15 oz.) cans petite diced tomatoes (including juice)
2 (19 oz.) cans Cannellini beans, rinsed and drained well
Heat oil. Saute onion, celery and bell pepper in oil, over medium heat, until tender and translucent. Add kielbasa, kale and garlic. Cook for 2 minutes, stirring constantly. Add spices, Sriracha, wine, stock, tomatoes and beans. Gently simmer for 15 minutes (just until heated through.)
Ladle into bowls. Garnish with herb sprigs if you like.
Enjoy,
~Melissa
You may enjoy these related posts: