Print Friendly Version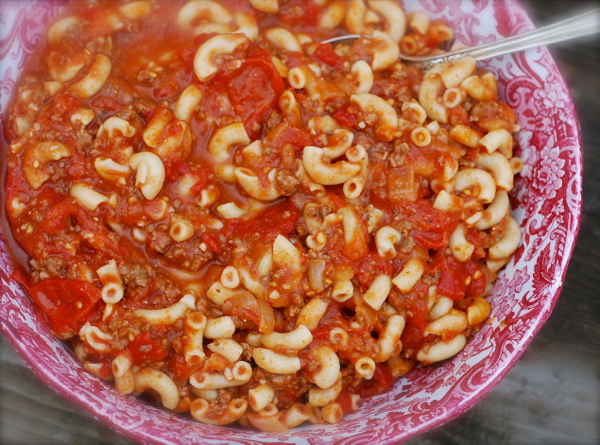 This is one of those old standby recipes that I make when I'm craving something that reminds me of home. It's so simple to prepare, delicious, frugal, and it really hits the spot!
PS…Before I start getting emails… This "goulash" is a Minnesota staple food, and has nothing to do with authentic Hungarian goulash, which I also love.
serves approximately 8 people
2 lb. lean ground beef
2 large yellow onions, chopped
1/2 cup chopped green pepper OR celery (optional)
2 to 3 cloves garlic, minced
3 cups low sodium beef stock/broth
2 (15 oz.) cans tomato sauce
2 (14 oz.) cans petite diced tomatoes OR stewed tomatoes (including juice)
3 Tablespoons Worcestershire sauce
2 Tablespoons dry oregano
3 bay leaves
seasoned salt, to taste
freshly ground pepper, to taste
2 cups uncooked elbow macaroni
2 cups shredded cheddar OR mozzarella cheese (optional)
fresh or powdered Parmesan cheese, to taste (optional)
Cook ground beef over medium-high heat in a large heavy pot until mostly browned (approximately 8 minutes.) Break up meat into small chunks. Drain excess fat if needed. Stir in onions and garlic (and peppers/celery, if using). Cook, stirring occasionally, for 10 more minutes. Stir in stock, tomato sauce, tomatoes, Worcestershire, oregano, bay leaves, seasoned salt, and pepper. Bring to boil. Reduce heat to gentle simmer. Cover and simmer for 20 minutes, stirring occasionally. Once 20 minutes is up, stir in macaroni. Cover and simmer on very low for approximately 25 minutes, stirring occasionally, just until pasta is tender/al dente. Discard bay leaves. Stir in cheeses, if using. Serve.
Enjoy!
~Melissa
You may enjoy these related posts: