Print Friendly Version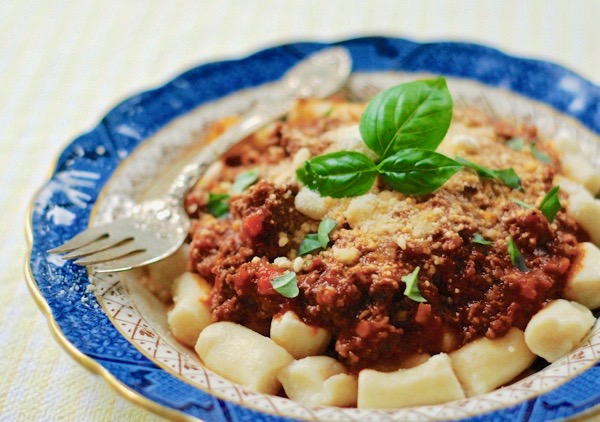 ~ ricotta gnocchi ~
Are you familiar with gnocchi? They're these little Italian dumplings, usually made with potatoes, and topped with marinara, bolognese (as pictured above) or a creamy sage butter sauce. I've made the potato variety before, and though they're very good, kind of time consuming to make on a week night…and I like to go out on the weekends. Needless to say, I don't make them often.
There's a fabulous cookbook, by the lovely Tessa Kiros, called Apples for Jam, that includes this recipe for ricotta gnocchi. Unlike potato gnocchi, these little dumplings are light, cheesy pillows that melt in your mouth. And, would you believe, they only take about 10 minutes to prepare? Not kidding. In the time it takes for your pot of water to boil, you can mix and mold these little yummies. A perfect week night meal, and definitely fancy enough for company. I'm thinking about making them and topping them with the sage sauce the next time hubby makes his famous chicken marsala.
for the sauce:
2 Tablespoons extra virgin olive oil
1 medium onion, chopped
2 large cloves garlic, minced
1/2 cup dry red or white wine
1 lb. extra lean ground beef or Italian sausage
1 jar Rao's Spaghetti Sauce
salt and pepper to taste
Heat oil in a large Dutch oven. Add onion and cook until tender. Add garlic and cook for an extra minute. Deglaze pan with wine. Add meat. Cook until almost done. Add sauce and bring to a gentle simmer for 10 minutes. Lower heat under sauce to very low while you prepare the dumplings. Stir occasionally to keep sauce from sticking to the bottom of the pan.
Make sure the sauce is prepared and hot before you cook the dumplings (gnocchi).
for 4 servings of ricotta gnocchi:
2 cups whole milk ricotta cheese
3 Tablespoons Parmigiano Reggiano cheese, grated
1 scant cup all-purpose flour
Bring a large pot of salted water to a boil. Mix the cheeses, flour and a pinch of salt together in a large bowl. With lightly floured hands, roll the dough into thin sausages (about 5/8 inch thick.) Try to avoid adding extra flour or your gnocchi will be tough. Cut into little dumplings, about 3/4 inch long.
Drop the gnocchi into boiling water and cook for about 45 seconds, until they float to the surface. As they bob up, lift them out with a slotted spoon and divide them between 4 warmed serving bowls. Top with sauce and a little more Parmesan if you wish. Garnish with basil sprigs. Serve at once.
Enjoy!
~Melissa
You may enjoy these related posts: