Print Friendly Version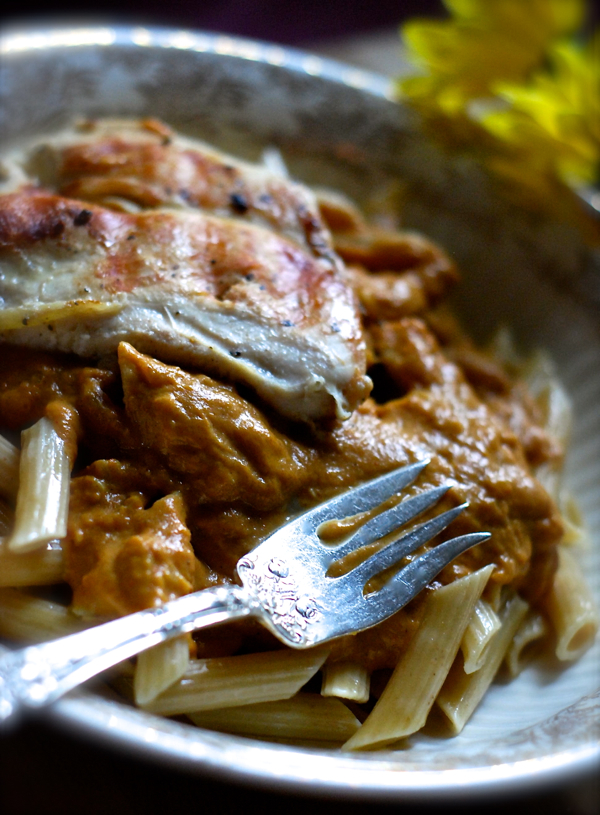 So far so good with the healthy goals in 2014. I've been making lots of delicious, wholesome dishes that are loaded with flavor. I am trying to cut back on the bad fats, sugar and salt… but this dish just isn't the same when you try to make it with greek yogurt in place of cream. The up side is that this has tons of pumpkin and garlic in it, the penne pasta is whole grain, and the chicken breast was grilled on the George Foreman instead of fried. If you decide to try substituting greek yogurt for the cream, remember to not add it to the boiling pumpkin sauce or it will curdle.
serves 6 hungry people
1 lb. whole grain penne pasta (I used Barilla Plus)
2 Tablespoons extra virgin olive oil
1 medium onion, chopped fine
4 large cloves garlic, minced
2 cups low sodium chicken broth or stock
15 oz. pure pumpkin puree (not pie filling)
1/2 pint heavy cream
1 teaspoon hot sauce (I used Sriracha)
1/2 teaspoon nutmeg
1/2 teaspoon smoked paprika
1/2 teaspoon pumpkin pie spice
1/2 teaspoon rubbed sage
pinch of ground ginger
pinch of ground cloves
6 small grilled chicken breasts, cut into strips
grated Parmesan cheese
freshly ground black pepper
Cook pasta according to package directions until "al dente." Drain well and place in a big bowl. Toss with a little olive oil to keep the noodles from sticking together. Cover to keep warm while you make the sauce.
Grill up your chicken breasts (or bake them in a little white wine.) When the chicken is done and no longer pink, cover and set aside to keep warm.
Heat the olive oil in a large, heavy-bottomed skillet. Add onion and saute until tender and translucent. Add garlic and cook an additional minute. Stir in stock, pumpkin, cream, hot sauce and all of the seasonings. Using a wire whisk, stir the sauce frequently over medium-low heat for 5 to 6 minutes (or until thickened to your liking.)
Plate the pasta. Top with sauce, grilled chicken strips, grated Parmesan and a little ground black pepper.
Enjoy!
~Melissa
You may enjoy these related posts: