Print Friendly Version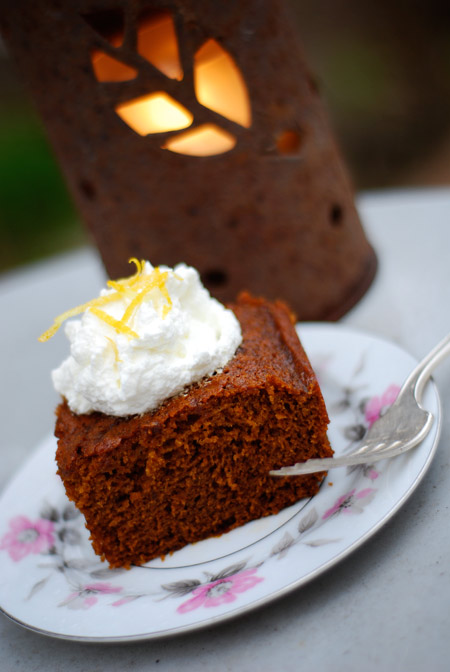 photograph by Jeffrey Placzek
This is rich, moist, molassasy cake with a spicy kick.
~Plum Street Gingerbread~
for the cake:

3/4 cup dark molasses
1 cup packed, dark brown sugar
1 stick butter
1/2 cup gingerale
2 Tablespoons grated fresh ginger root
2 cups flour
1 teaspoon baking powder
1 teaspon baking soda
1 teaspoon freshly ground nutmeg
2 teaspoons ground ginger
1 teaspoon kosher salt
1/2 teaspoon cayenne pepper
2 large eggs, beaten
3 Tablespoons dark rum
Preheat oven to 350 degrees F. Grease a square cake pan (9X9) with real butter.
Combine first 5 ingredients in a large saucepan.
Stir over low heat until butter melts. Set aside to cool.
In a separate bowl, combine dry ingredients and spices. Stir molasses mixture with egg mixture and then mix the wet ingredients with the dry until thoroughly combined.
Pour batter into prepared pan. Bake in preheated oven for 35-40 minutes, or until just set and a toothpick inserted in center of cake comes clean.
~Rum Cream with Lemon Zest~
In a stainless steel mixing bowl, combine heavy whipping cream with sugar to taste and a few teaspoons dark rum. Whip until peaks form. Serve in big dollops on top of the gingerbread with a generous grating of Meyer lemon zest.
Enjoy!
~Melissa
You may enjoy these related posts: