Print Friendly Version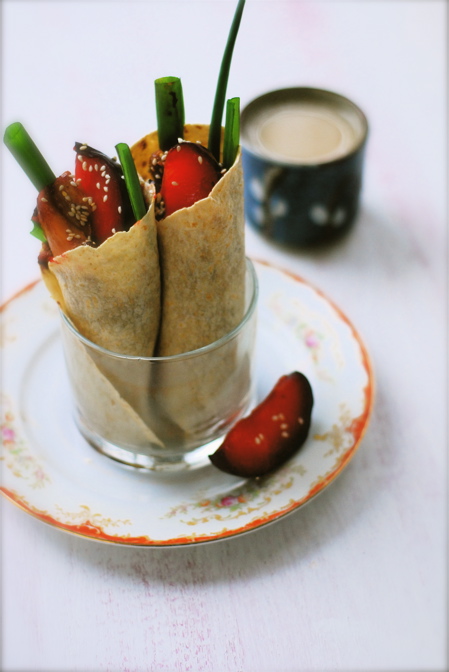 ~ peking chicken wraps ~
I was craving Chinese take-out a few nights ago and decided to make something that would satisfy the craving since we weren't able to go out that evening. These little wraps are spicy, salty and yummy. I love the wonderful fresh, sweet burst of flavor that comes from using sliced cold plums in this recipe instead of mixing the plums into the warmed sauce. This is my creation, and I sort of made it up as I went along…a loose "riff" on the traditional Chinese wraps that call for Mandarin pancakes in place of tortillas. By all means, if you have the energy and the time, make the Mandarin pancakes from scratch. They are wonderful!
serves 4
for marinade:
juice of 2 lemons plus peel
1 cup white wine
1/4 cup olive oil
1/4 cup sugar
1/4 cup soy sauce
freshly ground black pepper
for the wraps:
8 (6 inch) flour tortillas or sandwich wraps
1/4 cup good quality hoisin sauce
2 Tablespoons low sodium soy sauce
3 Tablespoons fresh orange juice
2 teaspoons orange zest
3 Tablespoons honey
2 Tablespoons minced, fresh ginger
1 teaspoon seasoned rice vinegar
2 large garlic cloves, minced
1 Tablespoon Sriracha hot sauce
6-8 boneless, skinless chicken thighs fresh or thawed
2 large plums, sliced
4 scallions, trimmed and cut lengthwise into slivers
toasted sesame seeds for garnish
In a big bowl, combine all of the marinade ingredients. Place the chicken thighs in the marinade and toss. Press all of the thighs below the liquid, cover and refrigerate for 4 to 8 hours.
To cook the chicken you can either grill it over charcoal, or broil it. If you choose the broiling method, preheat your broiler and lightly oil the rack of your broiler pan. Stack tortillas and wrap in foil. In a small saucepan, combine: hoisin, soy, orange juice, orange zest, honey, ginger, vinegar, garlic and Sriracha. Toss the chicken with 3 Tablespoons of the sauce so it's completely coated, setting the rest aside. Broil chicken 3 inches from heat, without flipping. Rotate pan after five minutes, and allow to cook an additional five minutes or until completely cooked through and golden. Transfer to a cutting board and allow to rest for five minutes. While chicken is resting, lower oven heat and place the foil wrapped tortillas in the oven to warm up. Boil sauce until thickened somewhat, about 2 minutes. Cut chicken crosswise into 1/4 inch slices. Wrap up in warm tortillas with plum slices, scallions, a drizzle of sauce and a sprinkle of sesame seeds.
Enjoy!
~Melissa
You may enjoy these related posts: