Print Friendly Version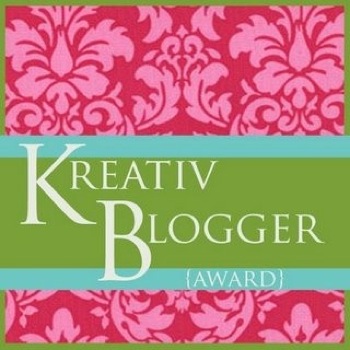 Yesterday I received two Kreativ Blogger Awards! The first was from the gorgeous Allison of The French Whisk, and the second was from my new beautiful blogger friend, Brianne, of Cupcakes & Kale Chips. Thanks ladies! I am so honored and excited to pass this award on to 12 of my favorite bloggers (6 for each one I received.)
To properly accept this award, I am to list 10 random facts about myself. Here goes…
* the texture of cotton balls drives me crazy
*  bowling alleys and roller rinks scare me
* I have written 3 books. (2 of which are currently published.) I am in the process of writing 2 more…and I have been commissioned to illustrate books for 2 other people.
* I became a grandmother at the age of 38
* I love watermelon rind pickles more than any kind of candy
* I'm somewhat allergic to mangoes, but that doesn't keep me from eating them
* My favorite colors are red, orange and pink. In that order.
* I am the most stubborn person I know, and once I set my mind on something absolutely nothing will stop me from reaching my goal
* I live in an old Victorian cottage, but I dream of a home with an ultra-modern, open floor plan with tons of natural light, and minimalist "zen" decorating
* I taught myself to crochet by watching youtube videos
The blogs I'm passing this award to:
A Clove of Garlic, A Pinch of Salt
Congratulations lovely ladies!
XO
~Melissa
You may enjoy these related posts: