Print Friendly Version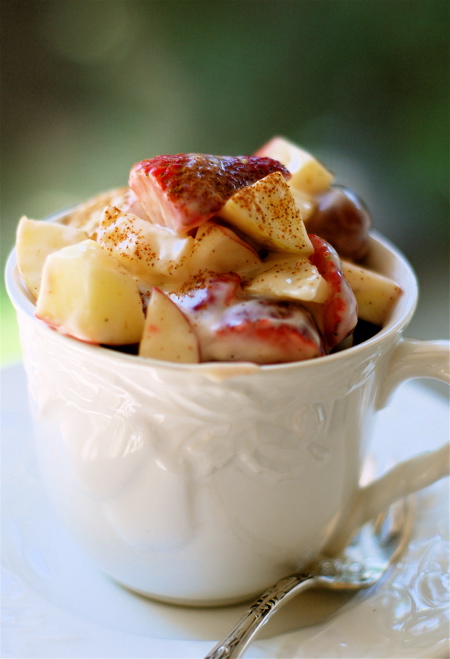 ~ tearoom fruit cup salad with dreamy dressing ~
I've been to lots of tearooms. Most of them serve some sort of fruit cup in the summer, and some serve a warm fruit soup in the colder months. Here's my riff on the tearoom fruit cup.
2 apples, washed, unpeeled and chopped
2 cups grapes
1 cup strawberries, quartered
1 cup fresh or canned pineapple
1/4 cup whole milk greek yogurt
1/4 cup light mayonnaise
3 Tablespoons honey
juice of 1/2 lemon
2 teaspoons lemon zest
1/2 teaspoon cinnamon
Place all of the fruits in a big mixing bowl. Combine yogurt, mayonnaise, honey, lemon juice, lemon zest and cinnamon in a small bowl. Pour over the fruit. Gently fold into the fruit mixture. Serve in teacups!
Enjoy!
~Melissa
You may enjoy these related posts: