Print Friendly Version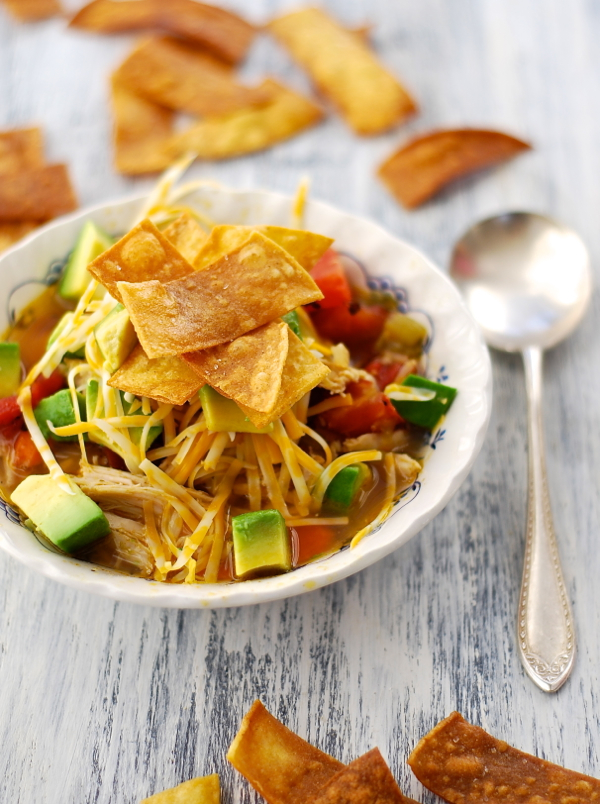 ~Tortilla Soup~
This soup has a slightly spicy broth and fun fixings: steamed jasmine rice, avocado chunks, Serrano pepper slices, shredded cheese, chopped cilantro, purple onion and tortilla strips. Even the kiddos will make bowls of this disappear.
4 Tablespoons extra virgin olive oil
1/2 yellow onion, chopped
3 big carrots
2 Tablespoons cumin
cajun seasoning (Tony Chachere's) and freshly ground pepper to taste
6 cups homemade chicken stock or store bought broth
1 small roasted chicken (I like the already-made rotisserie chickens from Byerly's) skin and bones discarded, meat shredded
1 (14.5 oz) Muir Glen organic fire roasted, diced tomatoes +juice
1 (7 oz.) can roasted green chilies
1/2 cup dry white wine
zest and juice of 1/2 lime
Fixings:
steamed jasmine or basmati rice
1 avocado, cut into chunks
Serrano pepper slices (or chopped)
shredded pepper jack cheese or colby/cheddar jack
chopped cilantro
thin slices of purple onion
homemade tortilla strips or store bought corn chips, crumbled
Sriracha hot sauce
*
Steam a couple cups of jasmine or basmati rice. Set aside. Wash, peel, and slice carrots into large slices on the diagonal. Steam until just tender, and set aside.
In a large stock pot over medium-low flame, heat the olive oil. Add the chopped yellow onion and saute until soft (About 10 minutes.)
Add the garlic, cumin, Cajun seasoning, and pepper. Saute another minute. Add the chicken stock, turn up the heat and bring to simmer. Add the shredded chicken, tomatoes + juice, canned chilies, wine, lime zest and juice and carrots. Heat through. Season to taste.  Cover and remove from heat.
To serve:
Ladle soup into bowls. Top with a couple spoonfuls of the steamed rice, some avocado chunks, Serrano pepper, pepper jack cheese, cilantro, fresh purple onion and tortilla strips. Top with a little Sriracha if you like spicy!
Enjoy!
~Melissa
You may enjoy these related posts: